OH SNAP: Nicki Minaj CURSES OUT Mariah Carey During Auditions--AND IT'S CAUGHT ON TAPE!
​
Oct 03 | by Natasha
​ ​ ​ ​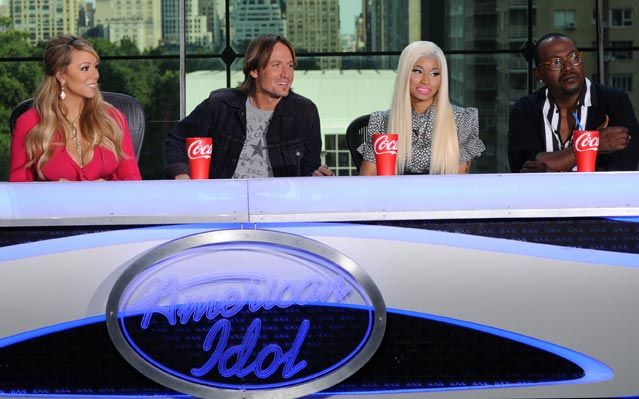 Ish just got real on the "American Idol" set. Remember those rumors of beef between Nicki Minaj and Mariah Carey? The ones MiMi tried to blow off? Well they're very real--and now there's video proof.
Deets inside on Nicki cursing out MiMi at auditions...
So the "Idol" judges rolled into Charlotte, North Carolina today for auditions. And ish went left when Nicki and Mariah disagreed on the talent level of one of the contestants. Who DIDN'T see this coming?
According to TMZ and video that has surfaced, Nicki screamed past Keith Urban over to Mariah, "I'm gonna knock you out."
And then she went on saying, which was caught on camera, "I told them, I'm not f*ckin' putting up with her f*ckin' highness over there." Along with several other high pitched words.

MouthToEars.com says Nicki walked out on production during this:
Nicki Minaj walked off of set because Mariah Carey kept making jabs at her. Nicki's manager and team convinced her to come back to the show. Mariah kept at it and called Nicki a bitch and then proceeded to cuss her out. Producers had to stop filming and call it a night.
Y'all already know how i feel about Nicki and her level of talent...so there's no need for me to comment on this ish. But we did say when this panel was announced that folks with a limited talent level maybe shouldn't be judging the talents of others. And definitely not put on the same level as iconic talents. That would, of course, cause problems.
Mariah will likely act like this never happened--she has a thing for not even acknowledging the presence of people she can't stand. J-Lo anyone?
But she did Tweet the above "Whyyyy" during the audition (which you hear her saying in the video)...and then erased it.
And if you're thinking this was all a publicity stunt, think again. Reportedly, producers stepped in because this was not how far they wanted this to go. And they are now scared at how Nicki & MiMi's relationship will affect the completion of the rest of the season.
This will only get more foolish...
​ ​
​ ​ ​