GOOD NEWS: Robin Roberts Says She's GREAT, May Return Home NEXT WEEK!
​
Oct 04 | by _YBF
​ ​ ​ ​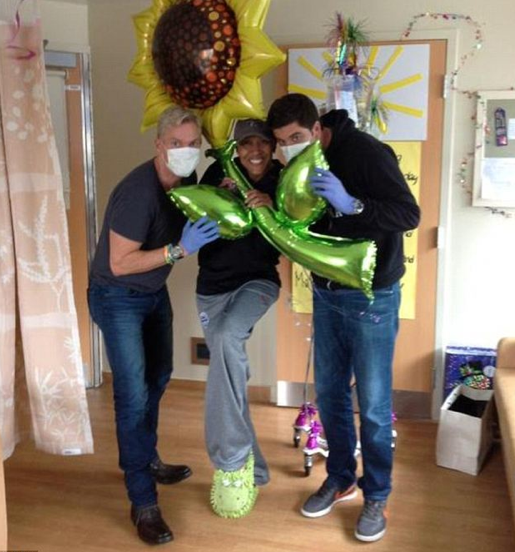 Praise Report! "Good Morning America" anchor Robin Roberts tweeted some great news about her health as she recovers from a recent bone marrow transplant. Find out what Robin said inside.....
With a post called "Thankful Thursday" Robin Roberts revealed on her GMA blog that her recovery from a bone marrow transplant is going well and her blood counts are looking great. She added that her sister's cells feel right at home in her body. Although she is still having a hard time eating (because of all the chemo), she remains prayerful, thankful and grateful. She also posted the above pic of her and her "GMA" co-hosts Sam Champion & Josh Elliot.
Here's her post:
Today is what I like to call "Thankful Thursday, aka Friday Eve." I have been in the hospital 25 days now. My bone marrow transplant took place exactly two weeks ago. The only numbers that matter are my blood counts and they are... GREAT! My sister Sally-Ann's stem cells apparently feel right at home in my body -- an answer to so many prayers.

My doctors and rock star nurses are very pleased with my progress and I could not be more thankful for the excellent care I am receiving. I have had some extremely painful days and it's still difficult for me to eat because of all the chemo. But something I read in Streams In The Desert stays with me: "I walked a mile with Pleasure, She chatted all the way; But left me none the wiser for all she had to say. I walked a mile with Sorrow, and ne'er a word said she; But, oh, the things I learned from her when sorrow walked with me."

I continue to learn so much on this journey, especially when it comes to true friendship and love. My friends near and far -- like Sam and Josh who came to visit yesterday -- have been lifting my spirits. My childhood pastor (who delivered Momma's eulogy) is coming from down South to see me tomorrow. I am hopeful that I MAY be well enough to continue my recovery at home next week and my sisters plan to come back to NYC for that milestone in my journey. I truly FEEL and thank you for your love, prayers and good wishes. And I return it to you tenfold. Light Love Power Presence. XO
Get well soon Robin!
​ ​
​ ​ ​