GIRL ON FIRE: Alicia Keys COVERS "COMPLEX" Magazine, DISHES ON About Motherhood, Frank Ocean And More
Nov 13 | by _YBF
Alicia Keys covers the December/January issue of COMPLEX Magazine where she discusses her evolution as an artist, how motherhood has changed her and the impact of Frank Ocean. See the highlights inside:
Alicia Keys is on fire. After multi-platinum success, numerous awards, and critical acclaim, she reveals in the December/January 2013 issue of COMPLEX that the best is yet to come. Describing her new album, Girl on Fire, like a lion breaking free from a cage, Alicia revealed that only now has she gotten to the place where she can truly feel "freedom" as an artist, a woman and a mother. We can tell since she does exactly what she wants with no apologies....
Here are the highlights:
On musical freedom:


"Before making this record, in some ways I felt like a lion locked in a cage," she wrote. "I felt like a girl misunderstood that no one really knew. I felt like it was time to stop making excuses for any part of my life that I wanted to change. Once I made that choice I became a girl on fire, the lion broke free!"

On becoming her "new" self:

"Becoming my new self, some people didn't understand me anymore. Some people who I knew for years—we couldn't be on the same page anymore. That's OK because that's part of growing, too. The hardest thing is to trust yourself, to know that what you're feeling is valid. A lot of times we dismiss our feelings. I realized that I can trust myself and say, 'No, I'm not comfortable with that.' That was the toughest part. When I finally had the bravery to do that, that's when I started to feel on fire."

On how motherhood changed her:

Motherhood was a big part of me breaking free. Before I gave birth to Egypt, there was a certain energy of wanting to fix things. Women want to clean stuff up before the baby comes. I refused to be in any circumstance that would give negative energy to this. That was what pushed me over the edge. It was becoming a woman. I was a girl, and now I'm a woman.

On not getting too personal with her songwriting:

The whole freaking world is looking at your shit. It's scary. I didn't want to say every single thing because you don't want people to know that. There's personal and there's public, and I deserve the right to have a personal space.

On Frank Ocean's impact:

That was super brave and I'm so glad that he wrote it. He is the voice for so many people. We're all boxed in to these stupid things that we're taught is the way we're supposed to be and it's so ridiculous. There are so many people that need a champion to assure them that no matter who you are, you are a beautiful person. That doesn't change the fact that you're talented or intelligent. Thank God that we have come to this place where we can actually know and be more open to the fact that people come in all different ways. And that's great because it's a very boring world otherwise.
More pics from the issue: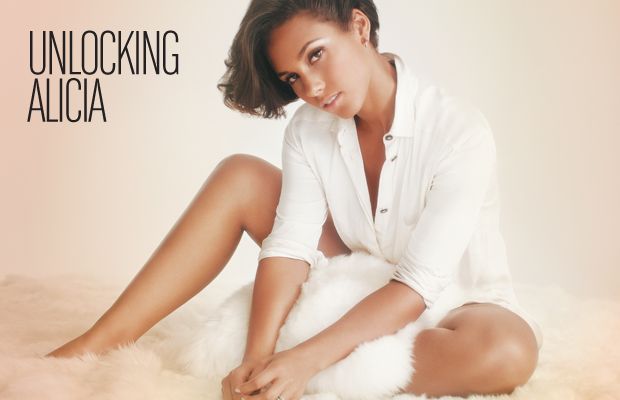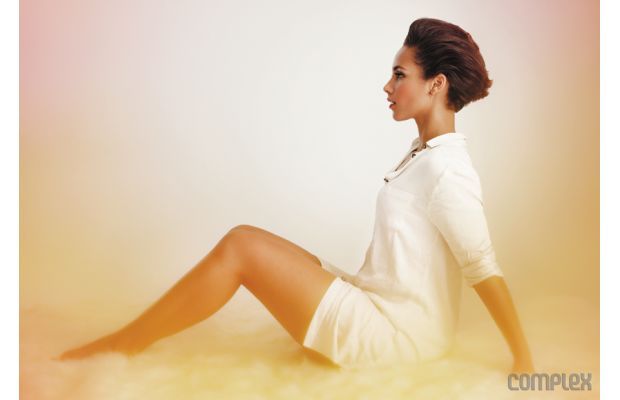 Top by All Saints / Earrings by Wouters & Hendrix
Top by Wolford / Earrings by Wouters & Hendrix.
Cardigan by Plein Sud / Bra by Natori / Earrings by Wouters & Hendrix.
Pretty ethereal-like shoot. We're feeling it...