The Real Life "Olivia Pope" CALLED IN For Petraeus SCANDAL, While "SCANDAL" Star Kerry Washington Covers "WOMEN'S HEALTH"
​
Nov 14 | by _YBF
​ ​ ​ ​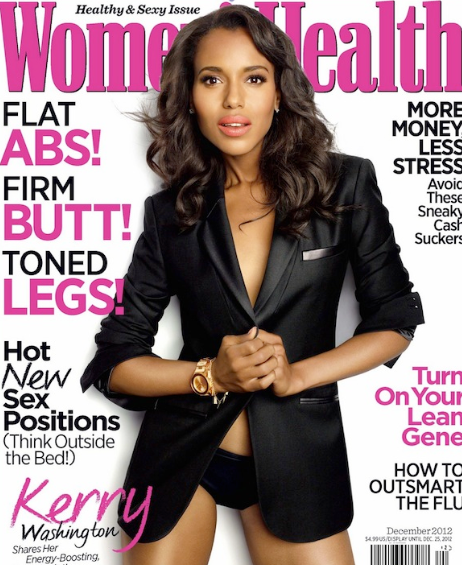 Kerry Washington covers the latest (and sexier) issue of "Women's Health" where she talks about her role in Django Unchained and what she would do if she wasn't an actress. Get the deets insde and find out about the real life "Olivia Pope" Judy Smith getting called in for the General Petraeus scandal!
On the Decemeber cover of "Women's Health" actress Kerry Washington, who stars as Olivia Pope in the ABC smash hit "Scandal" poses in a sexy tuxedo style blazer and panties. Inside, the actress talks about how she keeps in shape, where she would be outside of Hollywood and her starring role in Django Unchained with Jamie Foxx. Here are the highlights:
On prepping for Django Unchained:

"One of the things that I really love most about my job is the research part of it….So, I studied a lot. It's kind of hard to articulate the level of preparation that we all had to do for this film because so much of it was emotional and psychological preparation. It's hard to talk about because we all had to go into a part of American history that is so dark and complicated and fraught with the past sins of this country."

On what she'd be doing if she wasn't an actress:

"If I wasn't an actress, I would probably be a teacher. Either an elementary school teacher or a yoga teacher. Both of which I did when I was living in New York pursuing a career in acting. I liked doing both of those things very much. I think it would surprise people to know that what I really wanted to do as a child was to be the woman in the Shamu show at Sea World. And the big joke in my family is that I started taking Marine Biology and I was like, forget the whale, I'll just be on stage by myself."

On her go to snacks:

"I am not a vegan, but I like vegan protein shakes. I mix them with coconut water instead of regular water. That's my secret to having them taste better. I love popcorn. I could live on popcorn. The writers of Scandal have made my character Olivia Pope have a similar relationship with popcorn. But I don't mind because I get to eat popcorn at work."

Check out her pretty photo shoot here: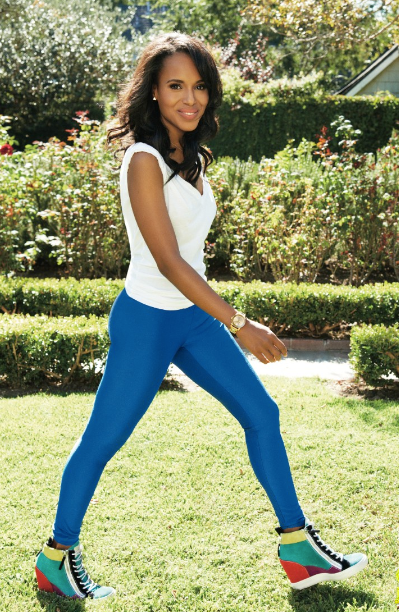 And in other "Scandal" related news....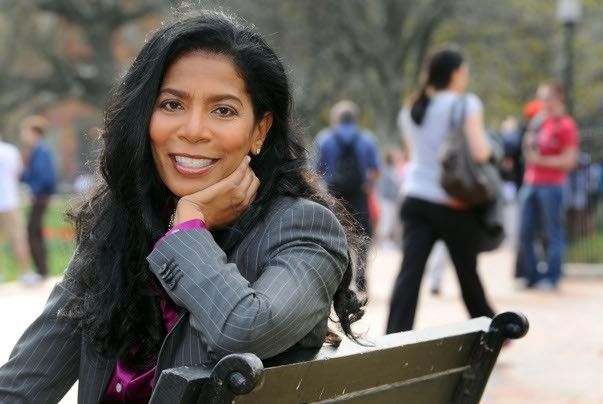 When the Gen. Petraeus scandal broke last week, a few folks joked that they needed ABC's "Scandal" character Olivia Pope to get in on that "situation". And guess what....the real-life Olivia Popeis involved...but not on the general's side. Judy Smith, who runs the crisis management firm Smith & Co., (and on whom Kerry Washington's character is based) has been hired by Jill Kelley, the Florida socialite who helped spark the email investigation.
Jill, who is married with kids, claims she was harrassed by former CIA head Petraeus' mistress, Paula Broadwell. Apparently, Paula, who is also married, thought the thousands of emails shared between Jill and the General on his official account were due to Jill being his second mistress. Damn side chicks are BOLD these days.
On Sunday, Smith & Co., released a statement on Jill's behalf saying,
"We and our family have been friends with Gen. Petraeus and his family for over five years. We respect his and his family's privacy and want the same for us and our three children."
What's interesting now is to watch Jill's behavior now that we know Smith & Co. is advising her..and we have "Scandal" as a reference point. And the advice clearly wasn't to keep a low profile as reports say Jill leaves her home dressed to the nines everyday (and based on her hot pink outfit today and full face of makeup while having coffee...the social climber is loving the attention) and leaves her curtains open (in full zoom of awaiting photographers camped outside her home).
Also, she's called police, complaining about the photographers, and tried to invoke "diplomatic protection" to have them removed. She's not even an actual diplomat by the way. Not very low key. Umm...doesn't Olivia usually have her clients go somewhere and have a seat? Not this one.
But we bet Shonda Rhimes will turn this incident into a storyline....we hope!
​ ​
​ ​ ​