HOT SHOTS: Cassie & Azealia Banks SEX IT UP For V Mag's "It Girls"
Nov 26 | by Natasha
Cassie, pictured above in a Versace leather dress and her own Cartier braceltes, & Azealia Banks are fashion's "It Girls" of the moment. And the sexy ladies are featured in V magazine's Girls of Now issue for their Girl Power special.
Check out their pics and what they say about road rage and their fave chicks...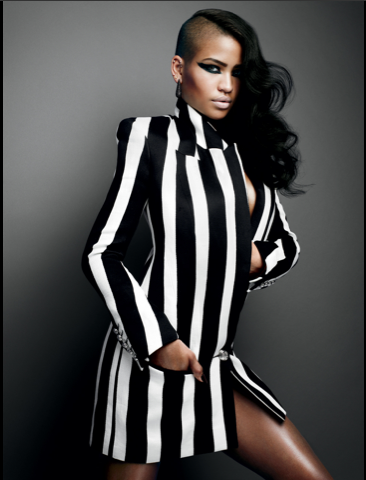 They've been releasing singles and mixtapes all year, and flaunting their sex appeal while doing so to keep tongues wagging. So it's no surprise that model/singer Cassie (pictured above in a striped Balmain jacket) & rapper Azealia Banks (below in are V mag's It Girls.
The two ladies shot a spread, along with folks like Sky Ferreira, Venus X and more, and dished on their personal faves.
Azealia (above in a Donna Karan Collection jacket, Alexander Wang bustier, Norma Kamali briefs & Dior hat) on her biggest moment of 2012: "Releasing my mixtape, Fantasea. I had struggled in the past to create full bodies of work, and that was my first official one, so I'm proud of that!"
Cassie's highlights:
What was your biggest moment of 2012? I put out two singles! "Balcony," with Young Jeezy and "The Boys," with Nicki Minaj. I'm beyond excited! I've been really patient with music, and things are moving now. I couldn't be happier. My other big moment of 2012 was going to Italy. It was my first time and I can't wait to go back.
How do you feel about the term "It girl"? Everyone's definition of "It" is different. To me it's a girl/woman of the moment who's doing something positive to change the world and make her stamp on history—in fashion, politics, music, anything.
What is "It" right now? Girls taking chances with their haircuts! Also Gabby Douglas; she won the gold medal at the Olympics and now the sky is the limit for her.
What is your style philosophy for 2012 and beyond? Keep it simple. I say dress yourself for your attitude. You'll carry it with more confidence because it's how you really feel.
Any New Year's resolutions? My friend Allison just did a triathlon today; it's so inspiring. My resolution for 2013 is to try something different, something I never dreamed I could do and do it with no intent of failure.
What are your goals for 2013? Album, tours and travel. My goals are to continue doing things that make me happy, stay around positive people, and take care of myself better.
How would you like to see the world change in the coming year? Road rage has got to stop! I'm working on my personal road rage one day at a time.
Who is your favorite It girl of all time? Bianca Jagger. She is a style icon, but also a human-rights advocate. The best of both worlds.
Hopefully both of them get their wishes of dropping a full length studio album at some point next year....
Photog: Sharif Hamza