Elle Varner CAUGHT IN THE COOKE JAR For "BLEU" Magazine, DISHES On Bullying And Getting "WHITE HOUSE" Approval
​
Nov 29 | by _YBF
​ ​ ​ ​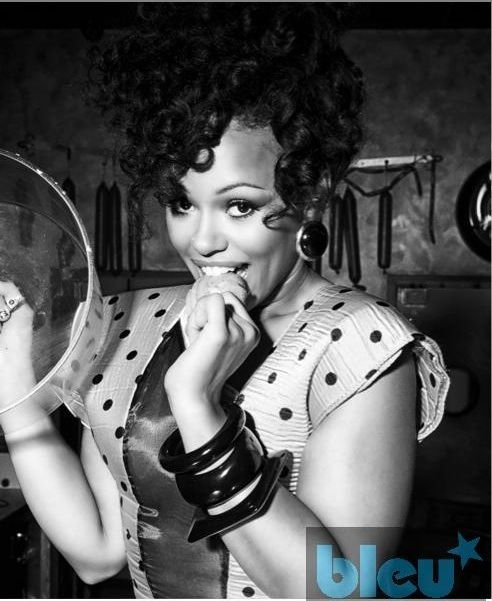 YBF chick Elle Varner dips in the cookie jar for the latest issue of BLEU Magazine. Get the first look at photos from Elle's black & white vintage-feel shoot inside and see what she said about having fans at the White House.
"I Don't Care" singer Elle Varner serves up the smizes in a restaurant themed-photoshoot for the latest issue BLEU Magazine. Inside the mag, Elle talks about creating her quirky style and how she was teased for being different as a child. Also, she revealed how she felt when she learned First Daughters Sasha and Malia were listening to her music.
Here are the highlights:

On bullying and using music as an escape....

Music was my saving grace growing up. I was not an only child and had to constantly keep myself busy, but I was also teased a lot. I was heavy,nerdy, and happy …a perfect target for a bully. So I remember artists like Aaliyah, TLC, and even Spice Girls making me feel like I had these "friends" who understood me. I was also a huge fan of the 90's Divas Whitney Houston, Mariah Carey, Toni Braxton, and Celine Dion.

On using fashion as an art form

"I would describe my style as fun, unpredictable, and unique. I wear a lot of bows and glasses as accessories. I hear people say all the time only Elle would wear that. I don't wear things for shock value, but more to express how I'm feeling that day and in that moment. "

On finding out that she has "fans" at the White House

"I couldn't believe it. I thought at first that it was just a rumor but then I watched and it was definitely real. I was shocked but also very
proud that the White House approves my music for their precious daughters to listen to. I made an album that simply told my story and that it could be appreciated by both a 14-year-old girl and that girl's Mother."

On her definition of "fly"

"My definition of fly is an attitude and a way about you that can only come from within. It's the way you treat people, the things you say and do, more than what you are wearing, driving, etc. It's the love that surrounds you and the love you give. Yes, I'm a hippie at heart."
Watch BTS footage of "Refill" chick Elle's photoshoot here:
Fans of Elle can catch her currently on tour with Trey Songz's "Chapter V" concerts. Loves her.
​ ​
​ ​ ​