WORKOUT FAB: Phaedra Parks & Hubby Apollo Nida RELEASE Their "Donkey Booty" WORKOUT Vid + Evelyn Lozada Gets FIT For "LATINA"
Dec 06 | by _YBF
"RHOA" star Phaedra Parks has teamed with her very fit husband Apollo Nida to create a "donkey booty" workout plan. Get deets on the video inside and find out what fitness advice Evelyn Lozada gave to "LATINA" readers.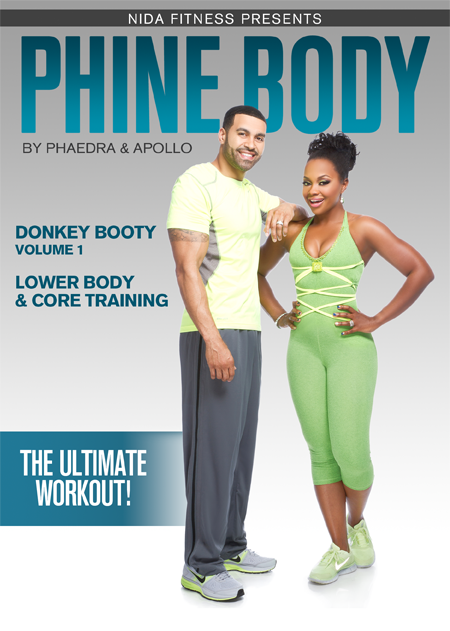 At the start of "RHOA" Season 5, Phaedra Parks revealed that she and her husband Apollo Nida, a certified fitness trainer, were working on a fitness DVD.....and now you can own it for yourself. Available December 11, Phine Body is a an exciting working video featuring "Donkey Booty Volume 1″ and "Lower Body & Core Training." Will it come with Phaedra's odd moans and sayings though?
In speaking about the tape, Phaedra said the video is for women who aren't necessarily into hardcore gym workouts but who still want to stay in shape. And you won't have to worry about your weave because you won't be sweating a lot. Oh...
"Our DVD … while it is a very tough DVD, it's anaerobic vs. aerobic, some parts of it. So with some of those toning exercises, you're not doing hard sweat. You're definitely going to feel it because you're working your muscles, and you're using core resistance, and that's going to give you great results

Phaedra recently told StyleBlazer about the tape. "But it's not like you're in a kickbox[ing] class and you're just sweating bullets and you're drenched at the end. The dance routine is the most aerobic of everything because you're dancing. You'll definitely sweat with that," she said.
But what is a donkey booty exactly? The ultimate Southern belle put it this way,
All booties can be beautiful booties. It's just a matter of toning and lifting them. Some people think a donkey booty is just a gigantic booty, but it's not. It's a nice perfect round behind, and anyone can have it."
But what if you aren't born with a donkey butt? Phaedra says you can get one. Of course.
"You can start off as flat as a board. And if you work the glutes, you can build the muscle, so it has that nice curvy appeal. Do some squats, some lunges, you will really see your legs and your behind just lifting."
Who's trying it?
In other fitness news.....
"BBW" star Evelyn Lozada started her new gig at LATINA Magazine recently where she blogs about health and fitness for the magazine's readers. She began her first post with a personal messgae to fans saying,
I'm very excited about my first blog entry with Latina.com! This is certainly an honor and I look forward to sharing my health and fitness secrets with ALL of you! I have consulted with Celebrity trainer, Tim Hamilton of GetFit Trim (@gitfittim), who has helped me modify several different workouts not only for myself (but also for you!)."
Evelyn goes on to share with reader her super-ab workout plan which consists of a Warm-Up with a 60 second plank, The Russian Twist, a Leg Raise and The Reverse Crunch.
And Evelyn's advice was apparently a hit with readers as she tweeted that she crashed the site......

For step by step directions on how to perform Evelyn's suggested exercises, check out Evelyn's blog.
Gotta love the fit reality chicks...