CONFIRMED! Kim Kardashian & Kanye West Are PREGNANT! (Kanye Reveals News ON STAGE!)
Dec 31 | by Natasha
Pick up your jaws and grab your sanity while you can. Because 2013 is about to be a DOOZY! That's right...Kim Kardashian is pregnant with Kanye West's baby. And it's been confirmed by multiple sources...including Kanye himself. Deets inside...
Not one to be upstaged by any pregnant Duchesses, pregnant exes, or any other big news coming in 2013....Kim Kardashian is pregnant and Kanye West is the father.
35-year-old Kanye wrapped up his 3-night series of concerts at the Revel Resort & Casino in Atlantic City Sunday night....and that's where he decided to make the announcement to thousands of concert goers. Kim was in attendance as well.
It's been confirmed by members of the Kardashian/Jenner family. 32-year-old Kim has gotten her wishes of having a baby before it's too late....and finding a man who worships her more than she worships herself. According to E! Online (non-coincidentally), the reality star is 12 weeks along. The mom to be tweeted pic of Kanye on stage yesterday and said, "Heaven." Now we know why.
Her sis Khloe tweeted:
Keeping secrets is hard with so many family members! Especially when you are so freaking excited!!!!! LOVE is everything!!!!
Mom Kris Jenner stepped away from concocting a new reality show around this to say:
"Im a happy girl !!!!!!!!! Wowza! Oh BABY BABY BABY,"
And her other little sister Kendall Jenner tweeted:
whos excited about the KIMYE babbyyy?! :D weeee

And big sis Kourtney, already two kids in herself, tweeted:
Been wanting to shout from the rooftops with joy and now I can! Another angel to welcome to our family. Overwhelmed with excitement!
Kim and her legal team have reportedly been exhausting every option to get her divorce from Brooklyn Nets baller Kris Humphries finalized. And this baby on the way may just do the trick. And it doesn't hurt that she & 'Ye have solidified at least another couple of years in the spotlight by making a baby together. And solidified an eternal connection with each other.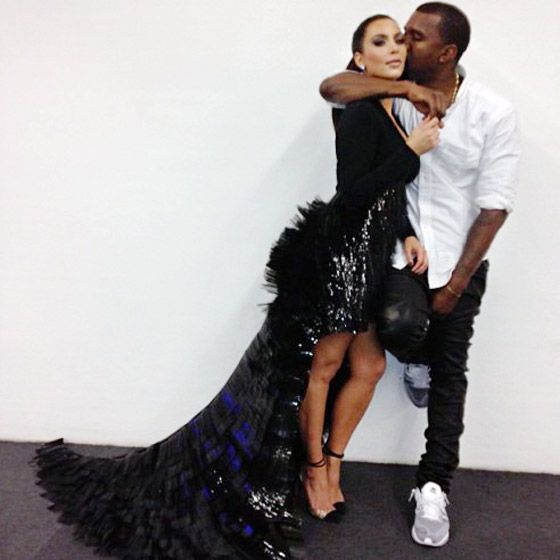 After years of pregnancy rumors, it looks like both of the future parents' wishes have come true. Congrats to the couple.