EBONY MAGAZINE'S BLACK LOVE COVER COUPLES: Meagan Good & DeVon Franklin + T.I. & Tiny + T.D. Jakes & Wife Serita
​
Jan 03 | by Natasha
​ ​ ​ ​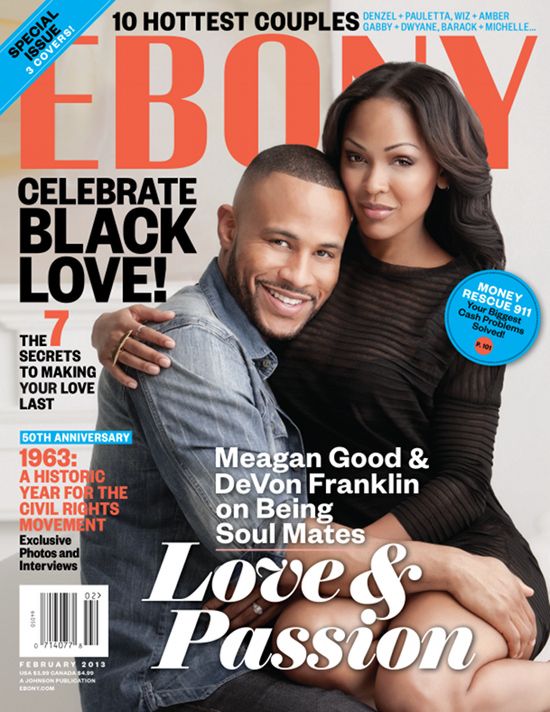 EBONY magazine debuted their 3 covers displaying BLACK LOVE for their February 2013 issue. Check out tv's new leading lady and her movie studio exec hubby, reality tv's fave hip hop couple, and the megachurch leader/film producer with his First Lady inside....
Meagan Good & DeVon Franklin are the newlyweds amongst the three couples featured. And they're looking HOT on the new EBONY cover.
The "Deception" actress manages to look effortlessly sexy at all times as she's pictured hugged up in her husband DeVon Franklin's lap in a sheer black Avelon pullover and a peek-a-boo Kiki de Montparnasse bodysuit.
Since getting married 7 months ago in a private (and surprise) ceremony, the twosome seem to be so in love. And living on different coasts while Meagan shoots her new NBC show still hasn't put out their fire. Meagan told the mag:
"One of the reasons I think God put us together is that we see the world very much alike, and where we see it differently, we complement each other."
And on how they make it work: "What do I do for him that's romantic? I try to surprise him whenever he comes to town. I wear nice things…Wink!"

Not mad at that.
T.I. & Tiny have been married for two and a half years, and they have survived some time apart thanks to a few jail stints. So taking a little love advice from the rapper and singer, who have been together for a total of 14 years and more in love than ever, doesn't seem too crazy.
T.I. on happily ever after: "Once I made my mind up that I was going to be committed to this relationship, I started being married then and there.… Since I've been married, it's the same relationship, we're the same people. We treat each other the same way, and we're just as happy now as we were before."
And on the third cover is mega church pastor and film producer T.D. Jakes, along with is wife Serita:
The Dallas-based church involved twosome are also making their debut as an EBONY cover couple. They've been married the longest of the three, and have some sound advice.
Bishop T.D. Jakes on marriage: "Marriage requires work and expecting the unexpected.… Don't let other people design a marriage you can't live with. Keep other people out your business. Every marriage is different."
Word. All three fab covers hit stands January 4th.
​ ​
​ ​ ​