SHOTS FIRED: Azealia Banks Scraps With Rapper Angel Haze On Twitter, Gets Called A "Charcoal Skinned B*tch"
​
Jan 03 | by Natasha
​ ​ ​ ​
Another day, another Twitter catfight involving Azealia Banks. But this time, it may not be (all) her fault. Check out why up and coming rapper Angel Haze dissed Azealia's skin color in a Twitter scrap just hours ago....
It all started when Azealia busted out with one of her out-of-the-blue statements that always seem to get folks riled up. She said, "Seriously, if you were not born and raised in NY.... DON'T CLAIM NY. YOU ARE NOT A NEW YORKER."
She went on to say not even upstate NY or "indie brands in Brooklyn" count.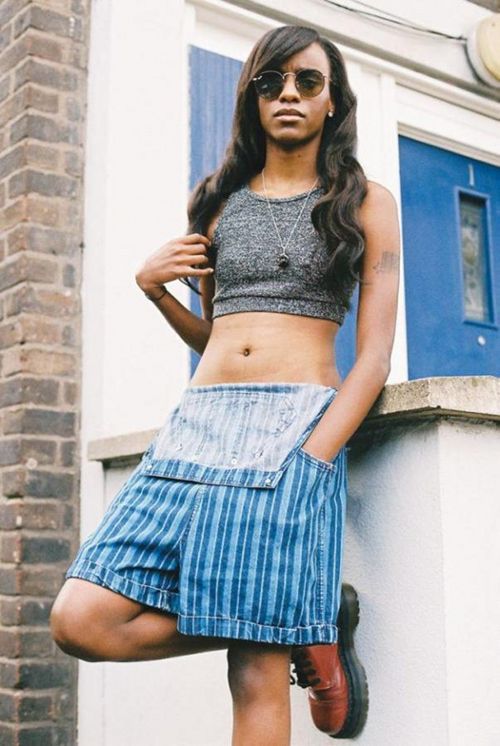 In walks 21-year-old Detroit native Angel Haze (pictured directly above), an up and coming rapper who has a few mixtapes out and appeared in 2012's BET Hip Hop Awards cipher. Apparently, she took offense (despite Azealia never mentioning her or anyone's name) and went hard at Yung Repunxel over her words.
She threatened to "shank" her and then called her a charcoal-skinned b*tch. A little confusing since Angel is also a black woman with brown skin. But even if she wasn't, this dig was a bit...much.
Check out her tweets (read from the bottom up) that were RT'd by Azealia since Angel has now erased her own: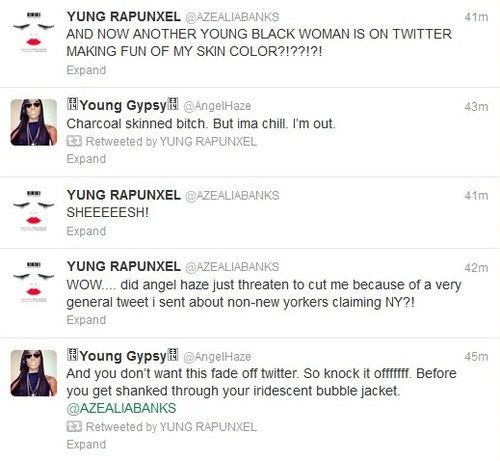 Why would a Detroit rapper give a damn about Azaelia's NY remark? Well, Angel just moved to Brooklyn, and apparently is sometimes labeled a s a "Brooklyn rapper." She came on the scene doing a remix of Eminem's "Cleaning Out my Closet," but recently made a song called "New York," where she says she runs a city she just moved to in May.
Sounds like some serious sensitivity is running through the twitter wold today.
And alluding to reports that Angel is a lesbian, Azealia then said, "Sir! please fix your tuck! your dick is showing!!!!"
Sigh. Things got ugly, but Angel has deleted her tweets.
Source: Twitter
​ ​
​ ​ ​