J.R. Smith COVERS "BLEU" Magazine, DISHES ON TATTOOS And BALLING With His BROTHER
​
Jan 07 | by _YBF
​ ​ ​ ​
NY Knicks baller J.R. Smith talked to "BLEU" Magazine about his love of fashion, who inspires his basketball game and what it's like playing on the same team as his brother Chris. See the highlights inside.....
J.R. Smith, the 26-year-old tattoo-covered NY Knicks Baller, who's been spending his QT with "LAHH" star K. Michelle, expressed his love for fashion in the latest issue of BLEU Magazine. Inside, while donning some of the latest winter fashions, he talked about what it's like playing for the Knicks alongside his brother Chris and what he hopes to do in the fashion world.
While rocking Calvin Kelin pants, GStar hat and an Entree top with an Edwin D'Angelo leather vest on the cover, he also revealed why Michael Jordan is one of his biggest inspirations. Here are the highlights:
On his love of fashion….
"It's never an off day for me. Even if you have the frumpiest clothes on and you got swag, you can make that shit look good. In the next three years I want to have my own clothing line."
On his early life as a rookie …
"Being 17 with 28, 29 and 30 year old basketball players, there was sort of a maturity aspect to it. I had a great opportunity to start earlier than most people. So while a few guys my age are only four or five years in, this is my ninth year. So it really helped impact my maturity level."


On his brother Chris signing with the Knicks…
"It's going to be easier for me on the road. When you have seen a group of guys for several months throughout the year, [opposed] to someone who has been there your whole life it's a totally different situation. I get to play basketball and go to work [with my brother] everyday. So I think it's going to be real cool."


On his tattoos……
"I don't think I was addicted. Addicted is a pretty strong word. If you're addicted you can't stop. I can stop whenever I want, I just choose not to."


On Michael Jordan as his inspiration …..
"Jordan is the greatest of all times. He's one of the reasons why I go so hard and push myself to be the best because I want to be…not better…but just as good."
Shirt and scarf by John Varvatos| Jeans by Nudie Jeans Co. | Jacket by Alhassan Toure | Chanel eyewear | Grey Super Shift Cores by Heydey Footwear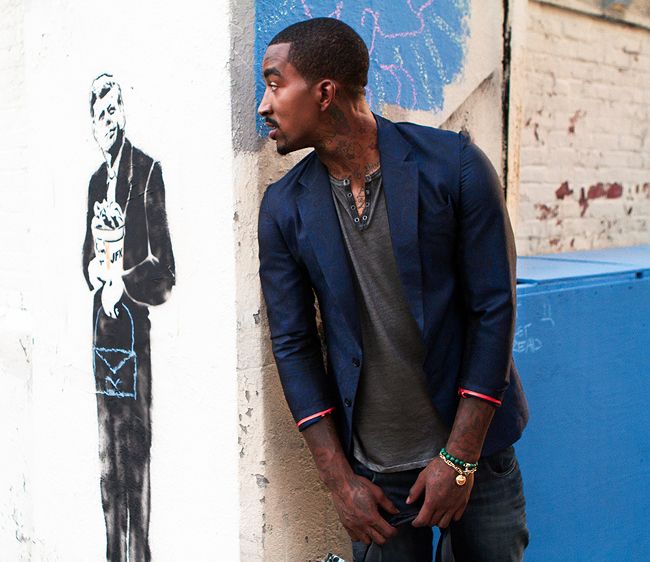 Shirt by John Varvatos | Marc Jacobs blazer | 'Green Bracelet' by Russell Simmons, Versace bracelet| Pants by Ralph Lauren | Duffle bag by Sprayground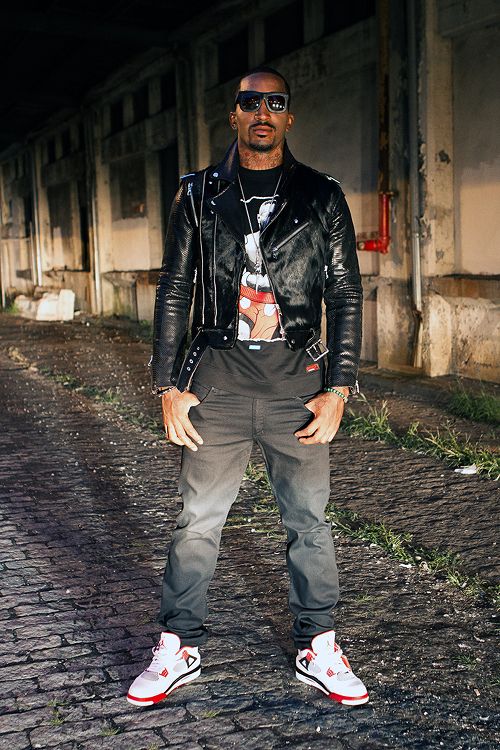 Leather Jacket by Alhassan Toure | Sweatshirt by Entree | Jeans by Gstar Sneakers by Jordan | Desiar Eyewear Chain by D&G| Bracelets by Simmons Jewelry
There's something crazy sexy about him. Pick up the Winter Issue on January 8th.
The Randomness:
1. The paternal and maternal grandparents of deceased NFL player Jovan Belcher's orphaned daughter are embroiled in a battle over her custody and her estate. Story.
Photos via BLEU/Fashion Stylist/Alisha Crutchfield
​ ​
​ ​ ​