FABULOUS: Mary J. Blige TWIRLS IT UP For "The Hollywood Reporter" Cover, Gives More On Her Past Of Drugs & Molestation
​
Jan 08 | by Natasha
​ ​ ​ ​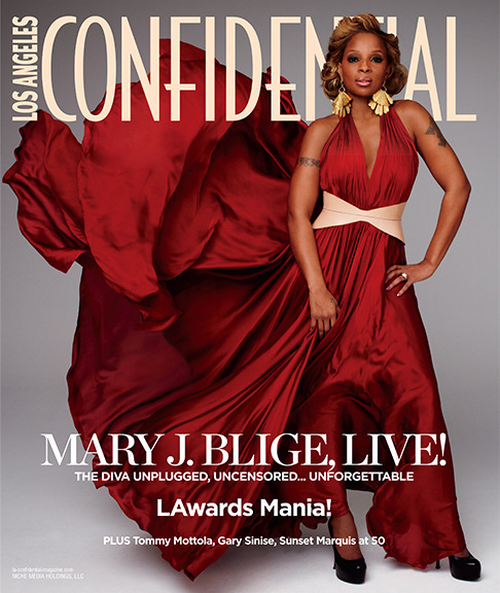 Rocking the brand new cover of The Hollywood Reporter in a stunning deep crimson Reem Acra gown, Herve Leger belt, and gold Tom Ford earrings, singer/actress Mary J. Blige is opening up more than ever about her harsh past. And why it's given her the most beautiful future.
Check her fabulous pics and interview inside....
After giving a high energy NYE concert at Amanyara in Turks & Caicos, with folks like Prince in from the audience, MJB is covering the newest issue of The Hollywood Reporter looking better than ever. Looks like she's upped her style game to make her look younger and fresher.
Herve Leger Adeline dress, de Grisogono earrings ($86,000!)
In addition to the hot shoot, the 42-year-old star gave an open interview to Kevin Sessums about her past. And why her future is so bright. Here are the highlights:
On calling herself a born again Christian but still in favor of same-gender marriage
I would say this to those people: I'm not God. God said not to judge anyone lest you be judged. That's it. Who am I to point my finger? You've got to walk in love. To say you do not want people to be happy is so mean, so not me.
On being high during the Grammys in 1995
Back then? Shoot. When I got that Grammy (Best Rap Performance by a Duo or Group) I was high. Not at the Grammys I don't think. But I was drinking like a crazy person. Still sniffing cocaine going in...
On never receiving formal help for her recovery
What I did was I chose to learn how to drink socially and it didn't work. The test comes when you have to decide whether you're drinking to be social or drinking to cover up something again. To cover up depression. To cover up guilt. Shame. Abandonment. All of that, man. Once I realized, "There you go again," I had to stop. Whitney Houston's death really affected me. Her death is another reason I stopped. I really do think I'm done. I looked at how that woman could not perform anymore.
I don't know why. But I didn't want to go to rehab. I believe that anything man himself can do for me, God can do for me in a greater way. I decided to pray and to seek God on my own. I just stayed in The Word. And it worked.
On her past flowing through her future
That's it. Life. You start from day one. And [the molestation] we spoke about earlier—when I was 5 years old. That dark moment. That one dark moment. It only happened once, but after that there was so much else in my childhood that happened. So many dark moments—which all added up and that's what sprung on the drug addiction, trying to numb it all with the drugs. The depression. The lack of love for myself. The lack of people loving you around you. The abandonment issues. Daddy not being there all the time. Mommy not knowing how to handle it all. Although she loves you, she abandons you at some point too. I'm not saying that to be down on my mom. She was just a cursed woman as well. There have been so many other dark moments that I can't even talk about. I have given the world so much and even in the middle of all that stuff there has been so much shit going on. It was all those tributaries that gave me such deep soul. But it is those same things that now have taught me how to be strong. In the past those were the same things that were killing me. But I made it out. I made it out.
On the legacy she took from her new Lifetime movie Betty & Coretta
You have to move forward. If Betty had not moved forward, Malcolm X would have died and that would have been it. I didn't even realize that she and Coretta had been friends. Women never get a chance to have their stories told when there are important men involved. That's what drew me to the part.

More pics:
Top & necklace by Tom Ford, Hoop earrings by David Yurman, Ring by AS Collection
Reem Acra gown, Jemma Wynne earrings
​ ​
​ ​ ​