Nas Cancels Performance Because of The Flu! + Chops It Up With Angie Martinez About Grammy Snubs & Being Back With Kelis...As Friends! (UPDATE)
​
Jan 11 | by Natasha
​ ​ ​ ​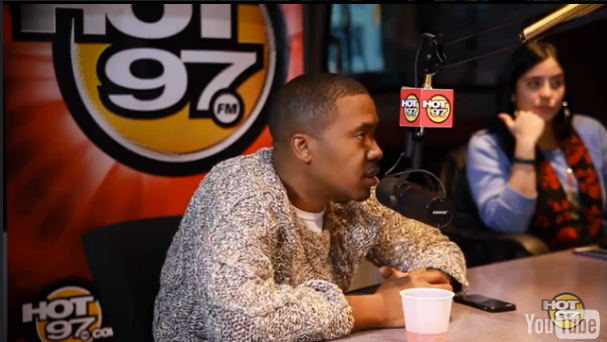 It's been taking down the nation at crazy rates this year. Now, the flu has hit Queens fella Nas and he had to cancel his performances today. But we've got his interview with Angie Martinez from last night inside....
Nas was set to perform on "Live With Kelly & Michael" this morning. But canceled when he had to go to the hospital after feeling sick last night. And his people told the show's co-hosts that he indeed has the stomach flu. Before you get your chicken soup ready to go "nurse" him back to health, check out some highlights from his interview with Angie Martinez on Hot 97 last night for her b-day.
Mr. Jones dished on his current relationship status with ex-wife Kelis as they've been spotted together pretty often, his relationship with his daughter Destiny, a new album, and more.
On his and ex wife Kelis' current relationship
We're back together...as friends. We were not friends for a long time. It was crazy We recently became...you know. We're not together, but we're friends now. I didn't want to piss her off too much with the [green] dress. But she handled it like a trooper. I even kinda said, "Yo...should we try this again?" [laughs] I'm like, 'Wow'. You have a child....you know how it is. I'm glad to be in that place. I don't want no beef.
On daughter Destiny
My daughter's good, she's in college. When I did the NYE show at Radio City, I had this song "Daughters" and my daughter is there. After the show we jump into this spinner van. Everybody's happy and going crazy and partying. And I'm zoning because I just did all these personal records on that stage. I'm kinda ready to put it away now. I got it out my system. My daughter was cool with it, she went through her moments. But she knows me. This is real and we already dealt with it. When I did the record, I just did it. I didn't know it would be a single or make the album. I just did it because it was bothering me. I was just trying to be a father and I hadn't always been the best. I kinda took it out in her because I was mad. But she's good. That's my princess and she's been the person why I do all this.
On getting 18 Grammy nods and no wins
18 nominations? That's a lot of nominations. At least they recognize a little bit. It's all good though. I don't feel tight about it at all. It's an honor for me to even have nominations."
On if he agrees with CNN naming him the Greatest Hip Hop Lyricist EVER
"Yeah. Yeah kinda. [laughs] At first I was cringing. But the way he broke down the article...it is what it is man."
Shouts to the Gap and shouts to my Pops for being an OG. We got booked for it and had a good time. He was great and the life of the party during the whole shoot. Everybody was liking him and loving him. It was good time. that's my guy right there for sure
We were always close. We didn't always live together...there was the separated homes and my mom raised me and my brother. But he was there and he was always around. The fact that we had a relationship that also comes from music too, that was just a blessing to me to show the world.
On working on a new album, a follow up to Life Is Good

Something has erupted in me. What's next to come is crazy. The zone I'm in right now is so right and I'm happy to be in the place I'm at right now to make music. I don't know what got in to me, but I love it. I'ma take advantage of the zone I'm in to record music. I feel like Ali. I feel like going on. I started putting together the base of it so I'm ready.
Life seems GOOD indeed for "Bye Baby" rapper. Check out Nas' full interview below in the studio (being his usual cute self):
The rapper is set to give an exclusive concert in Times Square next week, sponsored by Hennessy.
*UPDATE*
Nas tweeted his fans yesterday that he is doing well and out of the ER. He also offered a make-up performance for his missed appeared on "Live with Kelly & Michael."
It was revealed that vertigo led to his ER visit.
​ ​
​ ​ ​