What's Going On With Nelly....And Video Vixen Tae Heckard?
​
Jan 11 | by _YBF
​ ​ ​ ​

The internet streets are buzzing that something might be going on between Nelly and "The Game" vixen Tae Heckard. See her non-denial on Twitter about their possible romance inside.....
"The Game" actress and video vixen Tae Heckard (who appeared in Kanye West's "Gold Digger" video and Brandy's "Full Moon" vid) set the internet on fire after she posted a pic of herself with rapper Nelly on her personal Instagram account with the caption "Niggas sswweeaarrr it's medicinal. Pull out yo prescription then."
There have been rumors for several weeks now that the two were more than friends. And her most recent post indeed fueled the fire.
Tae (who is super cute by the way and we love her on "The Game") has the right to post whatever she wants on her account, but it just looks a little suspicious when you post a pic of you and a rapper....who is publicly linked to someone else....and when you know rumors are twirling about an alleged relationship? Messy.
So have Ashanti & Nelly broken up? Or is Nelly just getting in some play time while Ashanti's away filming "Army Wives"?
One of Tae's followers asked her about the rumors that she was gay...and if she was now dating with Nelly. Interestingly, she ONLY addressed the gay rumor.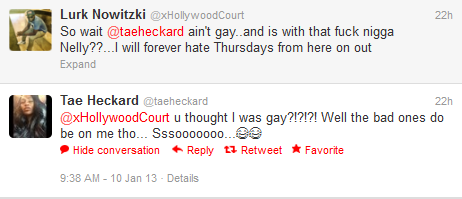 Did Tae "intentionally" forget to address the most obvious aspect of that question? Because her non-denial only added fuel to the fire.
We know that Nelly and Ashanti have been together for 10-years and he threw her multiple birthday parties last year, but something in the water ain't purified here. We can't confirm it yet though.
Last week, Nelly tweeted about people making assumptions,
"People from the outside looking in always know the least but have the most resolute and loudest opinions."
Oh, ok....
​ ​
​ ​ ​