Karrueche Tran Gives First Radio Interview, Talks Handling Hate...And Chris Brown
​
Jan 20 | by Natasha
​ ​ ​ ​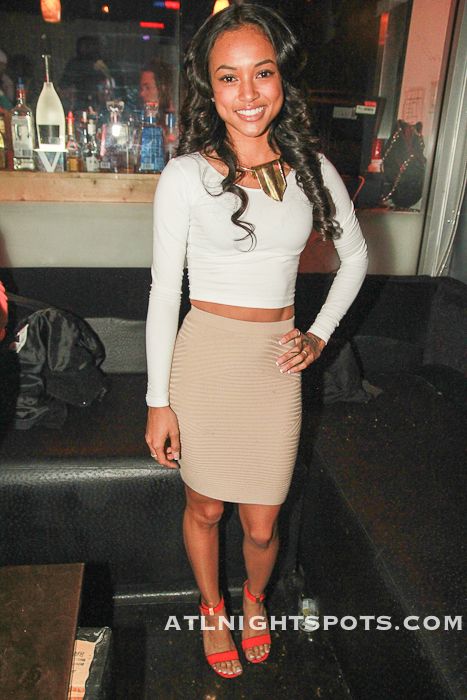 Chris Brown's on-again, off-again girlfriend Karrueche Tran's been all over Atlanta this weekend at the strip club and nightclubs celebrating her clothing line "The Kill"...even though it's not out yet. She hit up Harlem Nights in the ATL last night (pictured above), and stopped to do some media beforehand. We've got the highlights from her very first radio interview ever inside...
Kae tucked her emotional triangle with Chris Brown & Rihanna aside this weekend as she celebrated and pubbed her new clothing line. Even though the launch of "The Kill" got pushed back, she's all for talking about the clothes, which are the female version of Chris brown's Black Pyramid line.
She stopped by Atlanta's Streetz 94.5 to chat about some things. Here are the highlights:
On her relationship status

I can't say. I have a lot of self control.
On if she would marry Chris if he proposed
The timing is not right now. At all. Everybody's focused.
On handling the hate tweets
It's hard because sometimes I really want to go there. But I don't. I just ignore it. I'm on my Twitter all day. I pretty much read everything. You have to laugh at it and brush it off. regardless of what I say, somebody's always going to bring some negative light to it.
Check out the full video interview below:
Her answers to a little game they played:
Drake or Chris Brown: Y'all tried it! You already know who I'm going to say. My loyalties lie with you know who...
Missionary or doggy style: Doggy style.
Chris' line or her own line: I love him but I'm gonna say my line.
Alrighty then....
Pic: ATLNightspots.com
​ ​
​ ​ ​