Michelle Williams Rehearses For "FELA", ADDRESSES "Beyonce-Gate" On "GMA"
​
Jan 24 | by _YBF
​ ​ ​ ​
Michelle Williams is going back to the stage for a 16-city run of "FELA!" See pics from her rehearsal inside and find out what she shared about Beyonce-Gate and the alleged Destiny's Child SUPER BOWL reunion performance during a stop by "GMA."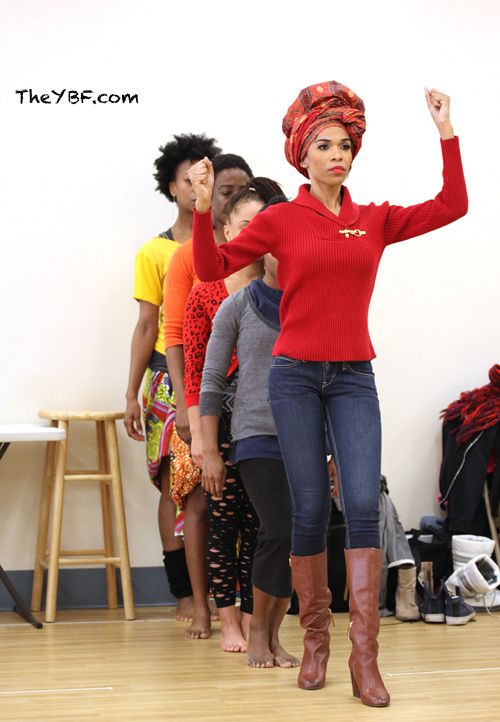 Yesterday, Destiny's Child member Michelle Williams was spotted singing and dancing during rehearsals for the touring company of 'FELA!' at the Pearl Studios in New York City. She is playing the role of Sandra Isadore, who was Fela's African-American lover. Maija Garcia, the tour director and choreographer, spoke of Michelle's addition saying,
"Sandra is our key for an American audience to look at Fela and understand a bit more where Fela may have been coming from. And an American audience can very much identify with Michelle Williams because she's of our time. She really becomes a vehicle for people to learn about Fela and for people to understand why Fela is relevant in the United States."
She'll be starring alongside Adesola Osakalumiin (who plays Fela Kuti) during the 16-city run.
And she's not too busy to defend her girl Beyonce. During a recent promotional interview for the show, she stopped by "GMA" this morning where she was asked what she thought about Beyonce-Gate and the controversy surrounding her possible lip-syncing. She said,
"It's disappointing and saddening to me. It's just shocking to me that it's taken on this. I love her so much. I know what she possesses. That was such a big moment for her and I just wish people would just let it go and just continue to look for what she's going to be bringing for ya'll in the future."
But when it came to rumors about her reuniting with Destiny's Child at the Super Bowl, she wouldn't answer the question directly. "I wish that I could say it's possible. I wish that I could say and I know that you all showed some 'Fela!' rehearsals so that's what I've been doing and what I've been focusing on."
She also addressed her personal bout with depression.
"I just want people to know that it's okay to go talk to somebody," she said. "It's okay to go get some help. It's really okay to deal with whatever it is that had you so low. I choose to be happy. It is a choice. I choose life and God has blessed me with a great one."
Michelle starts "Fela!" at the Shakespeare Theatre Company in Washington, D.C., on Jan. 29, before stops through Miami, Atlanta, Cleveland, Dallas, Los Angeles, Seattle, Nashville, Tenn and other locales.
Photos via Walter McBride/INFphoto.com
​ ​
​ ​ ​