Kerry Washington Talks Imperfections Of "Scandal" Characters (So Stop Judging Olivia Pope's Mistress Activites)
​
Jan 30 | by Natasha
​ ​ ​ ​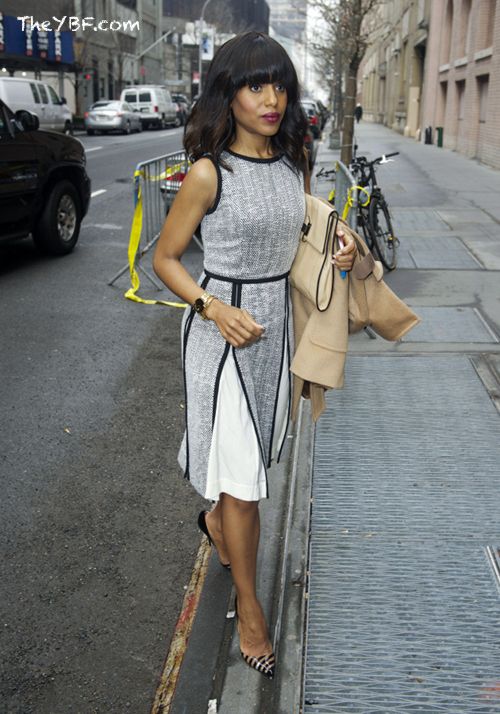 Kerry Washington, rocking a grey & white tweed pleated Fendi dress, made her way to "The View" today with her co-star Tony Goldwyn (President Fitz). And she addressed the controversy behind her character divulging in mistress activities, despite being a powerful & successful woman.
Check it inside...
While on a "Scandal" mini press tour today, co-stars Kerry Washington & Tony Goldwyn hopped from "GMA" to "The View" to "Katie" today to promote their hit show.
Recently, people like Star Jones (who says she's actually a huge fab of the show) took "Scandal" and its fans to task about the mistress activities.
And proceeds to call her character a whore: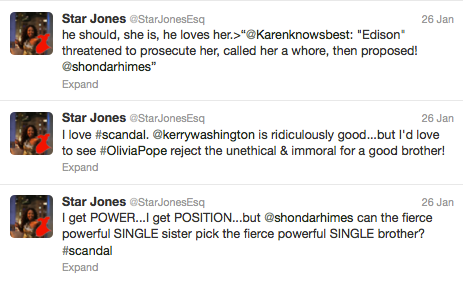 The show's creator, Shonda Rhimes, tweeted (after she asked fans why they felt Olivia chose a married President over a single Senator who loves her):
OH! Just read the tweets. Here's answer: Because this show is not a fairy tale & Olivia is not a role model.... I am glad you are watching & that you have strong opinions. I hope these are topics people debate about."
And with controversy spinning about Kerry/Olivia Pope's role as the President's mistress, Kerry explained on "The View" today that the beauty of the show's characters is just how imperfect they are.
Check out Kerry's classy response and entire interview with the ladies today below:
The fab actress is already on a flight back to L.A. after a whirlwind press day. And by the way, Kerry will be honored with the President's Award at the NAACP Awards Live this Friday (8p ET) on NBC. Congrats!

Pic: INF
​ ​
​ ​ ​