LIGHTS OUT! Celebs REACT To Beyonce's Halftime PERFORMANCE, Keyshia Cole Says Michelle Williams MESSED IT UP
​
Feb 04 | by _YBF
​ ​ ​ ​
Beyonce took over the Superdome tonight and literally shut the lights off with an electrifying performance. Find out what other celebrities are tweeting about her show....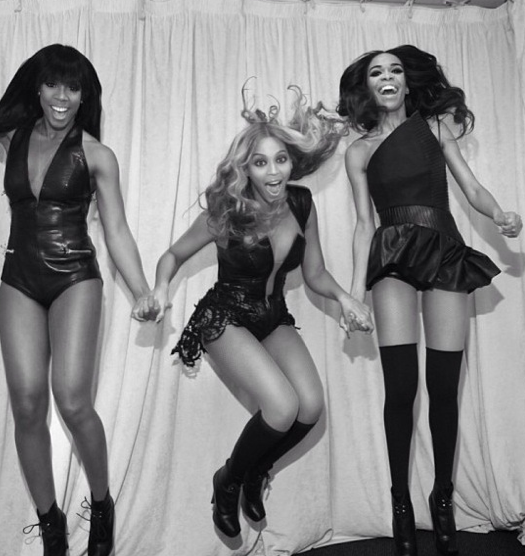 Shortly after Beyonce gave a sizzling halftime performance at Super Bowl XLVII, the lights went out at the Superdome. Coincidence? We don't think so. And neither did a ton of celebs who Tweeted that Bey shut it down!
Only Keyshia Cole had something negative to say...but it was directed at Michelle Williams, not Bey. She claims that the performance had her in a trance until the D-child reunion started and Michelle started to sing....and messed it up. SMH. She's getting railed on Twitter by the way. Because Keyshia Cole criticizing ANYONE's live performance game is....
Here's what other celebs (including Bey's husband Jay-Z had to say about the show):
I think I was frightened to blink for a sec. Then Michell sung and woke my ass up from my daze! She always fuckN the groove up/
But hey! I love y'all too! And y'all girl is WACK and always will be!
-Keyshia Cole
Lights out!!! Any questions??
-Jay-Z
Loved Beyonce's outfit. I want one! Beyonce's outfit for Wimbledon. But in white? Hummmmmmm
-Serena Williiams
Im sorry but @KELLYROWLAND yaaaaaasssssss heffa!!!! #shedidthat
-Tamar Braxton
I might be the only one NOT watching the Super Bowl!! I'm just waiting on Half time...BEYONCE!!! OMG!!! I'm hyped!!! #Beyonce #DestinysChild
-Coko
Halftime show slayed!!!!! Yessss @Beyonce!! ICONIC!! And I'm so proud of my BFF @KELLYROWLAND and @RealMichelleW! Wow
-LaLa Anthony
Beyonce Bowl/No. One. Better/By the way.... Black girls ROCK, and I couldn't be more proud to be one tonight!!!!
-Solange
OMG Beyonce killed it!!! And when Destiny's Child came out...that made my life! #Bootylicious
-Kim Kardashian
That's the TRUTH"@AngieBeyince: Proud night for talented gorgeous young black women! DC3, Alicia Keys, & Jennifer Hudson.
-Sylvia Rhone
Beyonce was hot!!!! &
@
KELLYROWLAND
& Michelle looked & sounded amazing too! I loved it
-Kandi Burruss
Whoooo I'm so tired. That performance took a lot out of me! LMBO
-Kenya Moore
-Diddy
who gon stop her!?
-Luke James
-Wendy Williams
DESTINYS GROWN ASS MAN
-Terry Crews
Beyonce literally shut it down!!! Fierce.
#
blackout
-Tamron Hall
Top 3 SuperBowl Halftime performances I've ever seen, Michael Jackson, Prince, and Beyonce.
#
REALTALK
-Nick Cannon
Bey-once .... Enough said
-Laura Govan
For all those who know me, knows i just had an orgasmic moment! #BEYONCE
-Selita Ebanks
Yes, B. Yes. Roasted that… #KINGBEY
-Justin Timberlake
Millions of eyes on @beyonce killing it #superbowl47
-Randy Jackson
BEYONCE!!!!!!!!!!!!
-Oprah
I'm in the DON'T GIVE A F**K IF IT'S PRE-RECORDED OR NOT club!! B's putting' in WURK!!!!
-Samuel L. Jackson
Beyonce is the best!!!! Damn she killed it. Best female artist (singer/dancer combo) ever!
-Michael Strahan
Had a great time w/my sisters tonight!! Tried to keep it a surprise!! Love you all...God bless!!
-Michelle Williams
It looks like most people agree that Beyonce did a great job. We can't wait to see what she pulls out her bag of tricks for "The Mrs. Carter World Tour."
BONUS: Beyonce posted a photo of Destiny's Child backstage at the Superdome (above).
Bey posted a handwritten note on Instagram where she said she was proud of Kelly, Michelle, Alicia and Jennifer for performing at the Super Bowl.
​ ​
​ ​ ​