IN CASE YOU MISSED IT: Nas TALKS Rap Beefs, His Emmy And Parenting On "Chelsea Lately" + Naomi Campbell PROMOTES "The Face" On "Late Night"
Feb 06 | by _YBF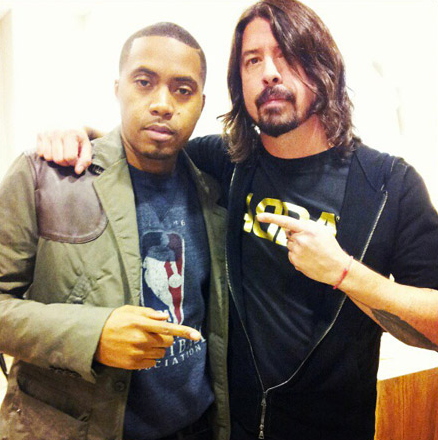 Nas chatted it up with Foo Fighters' front man Dave Grohl on "Chelsea Lately" last night about Hip Hop beefs and the boys chasing his daughter Destiny. See what he said inside and watch Naomi Campbell discuss the on-camera drama from her new show "The Face."
Rapper Nas stopped by "Chelsea Lately" last night where he discussed his Grammy nominations with guest co-host, Dave Grohl (who filled in for Chelsea). When asked about how Hip Hop is treated at award shows, the rapper (who has been nomnated for a Grammy 18 times with no win) said he thought the genre deserved a bigger light. "It's cool. I feel it could be a little bit more love though. Hip-hop is making a lot of noise. It should get some more spotlight."
Dave asked him what it's like to run into rappers he's dissed on records in public and if he ever offers an apology and Nas replied, "Once you say it, you gotta ride with it, you gotta be true. Hip-hop is really standoffish. It's really competitive. It's really about who's number one all the time. Sometimes it gets outta hand."
The sexy rapper also talked about winning an Emmy for directing, producing and narrating the short-film, Survival 1 (about Liberian Civil War survivors) and how one can turn a negative into a positive.
And when it comes to boys, the rapper revealed that the guys who want to date his daughter Destiny are surprisingly NOT afraid of him. He said, "I thought they would be, but these kids today. These kids are not playing. I had to get strong and let 'em know."
Watch the funny interview here:
In other tv news.....
The gorgeousness that is Naomi Campbell also made an appearance on "Late Night with Jimmy Fallon" where she talked about how she bonded with the group of girls she mentored during the show and what it was like living with the girls for 18-weeks. She revealed that there was a lot of drama caught on tape during the filming and she brought along a clip that showed her in scarring the living daylights out of Karolina Kurkova during a confrontation caught on film. It was amazing to see how she is literally feared by her peers.
Watch the interview below. Peep how The Roots play music from Naomi's single with Vanilla Ice "Cool As Ice" as she walks out:
Naomi and "The Face" premiere on Oxygen on February 12th at 9/8c.
And before her late night appearance:
Supermodel Naomi attended "The Face" Series Premiere at Marquee New York looking stunning in a white body-con mermaid fish tail hemmed dress.
The legendary diva posed for pics with fellow judges Karolina Kurkova, Coco Rocha and host Nigel Barker as they celebrated the arrival of their new reality show "The Face" which aired a sneak peek last night on Oxygen.
Pics: Pacific Coast News