MAGAZINE COVER ROUND-UP: Kerry Washington Sexes Up EBONY + LeBron & Dr. Dre Rock ESPN's Music Issue + Laila Ali SHINES For "Sheen"
​
Feb 06 | by Natasha
​ ​ ​ ​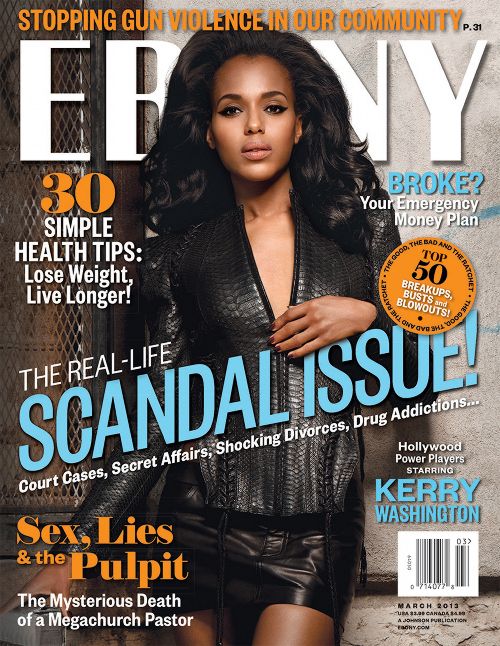 She's all dressed up in leather...and looking HOT. "Scandal" star Kerry Washington is rocking the March 2013 cover of EBONY magazine. Get the full look inside, plus LeBron & Dr. Dre covering the Music Issue of ESPN magazine, and Laila Ali showing us what healthy looks like on SHEEN magazine's cover...
Now here's a side of Kerry Washington we rarely get to see. Even though she's Hollywood's IT Girl and a true red carpet fashionista, she's upped her sexy factor for the new issue of EBONY mag.
With big hair and a leather mini skirt and a sexy alligator jacket, Ms. Washington knows how to bring the versatility in photoshoots and her acting roles.
So while oozing a sultriness like never before, Kerry's making a bold statement about the significance of portraying such dynamic female characters—Olivia Pope on ABC's "Scandal" and the slave, Broomhilda, in Django Unchained. She discusses the connection the two characters have, and how they relate to her personal life.
Kerry on Olivia Pope:
"In her professional life, she is so powerful and is this self-made woman…But in [Olivia's] personal life, she is a mess and I kind of love that…I love that I get to embody all of that complexity because I also think it takes a certain level of progress for us to have a Black Woman that powerful be an emotional mess on television."
Kerry on Broomhilda and characters connection:
"[Olivia] is the answer to Broomhilda's prayers…I'm grateful that these two women on opposite ends of history, on opposite ends of their experience, both strong women but in such different ways, can exist at the same time."
The EBONY Scandal issue hits newsstands Feb. 5.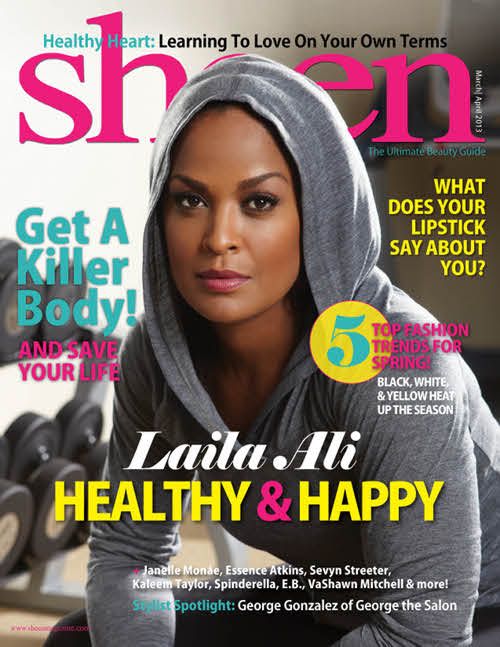 Boxer Laila Ali, who made an appearance on last night's "Real Husbands of Hollywood", is the newest cover girl for the Health Issue of SHEEN Magazine. How can you not love how she keeps it cute and feminine while still whooping ass in the ring?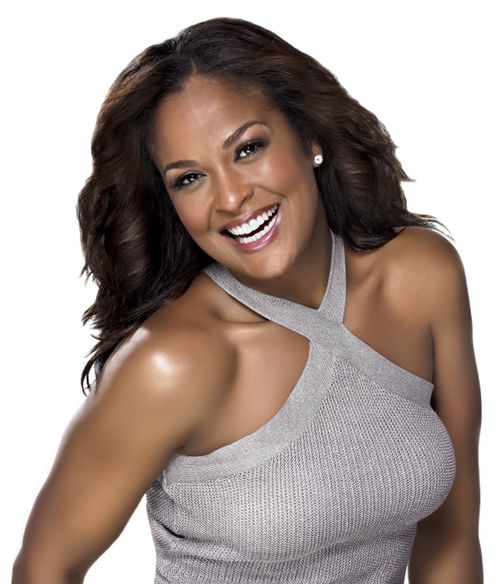 She's showing us what a healthy glow looks like. And the mom of two looks beautiful these days.
And finally, ESPN Magazine just released it's annual Music Issue. Just in time for the GRAMMYS, Dr. Dre is teaming up with Miami Heat champ LeBron James for the cover.
In the issue that hits stands February 8th, Urban Daily tells us what's inside:
LeBron and Dre talk about their partnership concerning Dre's Beats by Dre headphones. Besides talking about their business relationship, the pair share some songs they love to work out to. LeBron enjoys maintaining his fitness to the sounds of Rihanna, 2 Chainz, Wiz Khalifa, and Young Jeezy. The D-R-E hits the weights to a mix of Eminem, method Man, Nirvana, and Jay-Z.
Some behind the scenes footage from the shoot is below:
​ ​
​ ​ ​