EXCLUSIVE: The Alleged Mother Of Rapper Future's Baby-- Brittni Mealy--Dishes On Him CURSING Out Her Mother & BEEFING With Ciara
​
Feb 14 | by _YBF
​ ​ ​ ​
Hell hath no fury like a mother scorned. And TheYBF.com spoke exclusively to Brittni Mealy, who claims to be the mother of "Turn On The Lights" rapper Future's 2-month old son. She explained why the relationship failed, and why the Twitter beef with Ciara was blown out of proportion. Oh...and he also cursed out her mother! Now, she's speaking out in her first official interview.
Meet Brittni and get the juicy exclusive details inside....
Rapper Future isn't just a big name on the Billboard charts, he's also a big name in paternity clinics (as we've found out recently). Now, one of his three baby's mothers, entrepreneur/model Brittni Mealy (who's 24 years old), is speaking on how he dropped her as soon as he got signed, how he cursed out her mother and why she thinks Ciara should watch out.
She revealed that she believes Future loves his babies' mothers, but something about introducing children into the relationship changes things.
So why is Brittini, the owner of Pop Of Junk online clothing boutique, speaking out? She simply wants him to co-parent their child.
"He is OUR son and Future should do his part!" Brittini tells TheYBF.com. "We were together when we conceived our child. And, although we aren't now, I feel like we can co-parent, live our lives apart and take care of our child without there being any "beef".
Here is our full exclusive interview:
YBF: Tell us your story. When did you and Future meet when did you get pregnant, how old is your baby, and how did he react when you told him you were pregnant with his child?
Brittni: We met in late 2009 at an Atlanta club where I was an exotic dancer. He was a regular and he always wanted me to dance for him. We eventually exchanged numbers, talked on the phone and became friends. I was in a relationship at the time, so it didn't go anywhere. I eventually started working at Magic City and that's where we reconnected. He would come there to get his music played and one day in the parking lot after work, I heard someone say "THE TRUTH", my name there was Truth. I looked back and it was him, we exchanged numbers again and from that day we were inseparable like best friends together everyday. He really pursued me, we traveled together all the time, he really took care of me, we took care of each other. We moved in together and I became pregnant with ourson. We had a good relationship. This was before his career took off. My son was born in December of 2012.
What was your relationship like with Future?
Of course it started off perfect, we spent everyday together. Whatever I wanted he gave me, it was almost too good to be true! He swept me off my feet, he was my world and I was his. He made me smile (even on the inside), we were best friends! I thought it would never end. He wanted us to move in together, so we found a place and moved. We shared everything… I even remember the day he got signed, he called so excited and said "Bae my dream just came true!" But, of course, his dream became my nightmare. With his success, came the lies, the cheating, the deceit. He stopped coming home every night. The more successful he got, the more comfortable he was with mistreating me and disrespecting our home. I even found out he had another family 4 miles away on the same street we had moved on! I didn't end the relationship when I found out, because I was in too deep in love and he promised he was getting rid of the other "situation" as he called it…when the time was right.
Why did you feel the need to go on a Twitter rant with Future?
Because, something had transpired in our personal life. He made a phone call to my mom (obviously feeling like he can still control what I do, even though we are not together anymore ). My mom has always been kind to him and usually defends him. Because, I refused to speak to him…he proceeded to curse at my mother and call her out of her name! I was upset and emotional because, I am raising our newborn son and he has stopped assisting me with his care and now, he thinks he can disrespect my mother. It was too much. I acted out of anger because, my son and my mother are dear to me. And, he crossed the line. We simply don't deserve to be treated that way.
I reluctantly stooped to his level and I regret that.
What do you think about him having 3 children all by different women? Is that just Future or was that all unexpected?
No definitely not unexpected I knew about his kids, he has never disowned any of them. But, I do think 3 kids by 3 different women is a pattern of some sort. He obviously loves the mothers, but something about adding a kid to the equation changes things for him.
Are you in any way jealous--as some would say--of his relationship with singer Ciara, or do you just want him to be a father to his kids?
Definitely not jealous! Because, I deserve better and I know my Self Worth! I know the real "him", the part she doesn't know. They are just "honeymooning" right now. Everything always seems perfect in the beginning. But, I wish them the best. I will always have love for him, so if he's happy I'm happy for him. I'm not the flavor of the month kind of girl. I will have ties to this man for a minimum of 18 years so, no telling how many females I'm going to see come and go. He's feeling his success right now. He's at a place in his life he has only dreamed about.
I could care less about his relationships, I just want him to STEP UP and take care of his responsibilities and be a father to our son. And, I don't think what I do in my personal life should effect that.
What was the Twitter beef between you and Ciara? Were you actually going off on her with your pics and comments? Was she responding to you, or were we all just reading too far into things?
No! No twitter beef! I tweeted two words HAS BEEN and the world and the media took it and ran with it! Apparently, they wanted to associate her with being a has been. That is NOT what I said. I think she subliminally replied, feeding into their negative energy. I stopped tweeting because, I don't have the time or energy to entertain an imaginary "beef".
Bye! to all that.
Have you ever spoken with Ciara?
No. And I never have any intentions of speaking to her. For what??? I wish her nothing but the best!
Are you able to take care of your son by yourself?
Yes I am. I am a successful business owner. My online boutique POPOFJUNK.NET has tripled is sales since our launch. I have a fashion line launching in the Spring, POP TOXIC. I am also a stylist and personal shopper. My clothes have been worn by The OMG Girlz, Trina, songtress Nivea, T.I. & Tiny and in videos for artists Gucci Mane & Rick Ross.
So, yes I am perfectly capable of taking care of my son by myself but, why should I have to?? He is OUR son and Future should do his part! We were together when we conceived our child. And, although we aren't now, I feel like we can co-parent, live our lives apart and take care of our child without there being any "BEEF".
I'm happy, not bitter at all….I'm totally focused on being a mother and building my business!
---
Hopefully Future will step up to the plate and help Brittni and ALL his other babies' mothers in the finance department. Until then, at least Brittni has her own hustle going. She describes her boutique saying, "Our goal is to provide fashion forward pieces that are as unique and individual as our customers. For the distinctive, bold or daring girl POP of JUNK has just THE accessory to make your wardrode POP!"
Here are a few looks from her Pop Of Junk online store that she launched last March in Atlanta......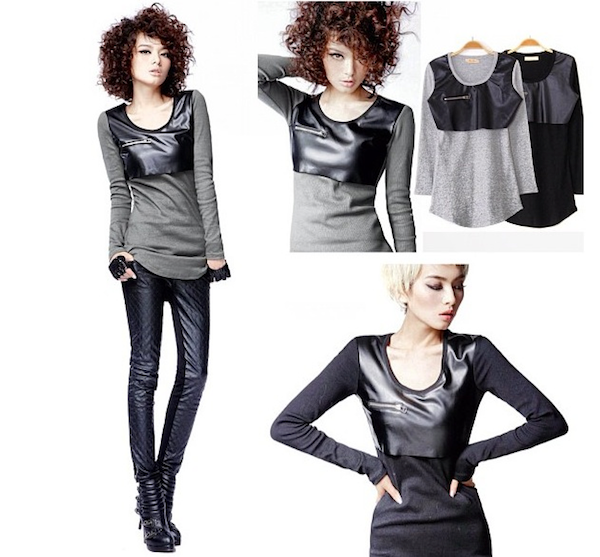 Photos via Pop of Junk
Brittni is on Twitter at @REALTRUTH87
​ ​
​ ​ ​