K. Michelle DISHES To THE BREAKFAST CLUB On Getting Her HEART BROKEN By Knicks Baller J.R. Smith, Says She Thinks Mimi Faust's New Man Is GAY
​
Feb 19 | by _YBF
​ ​ ​ ​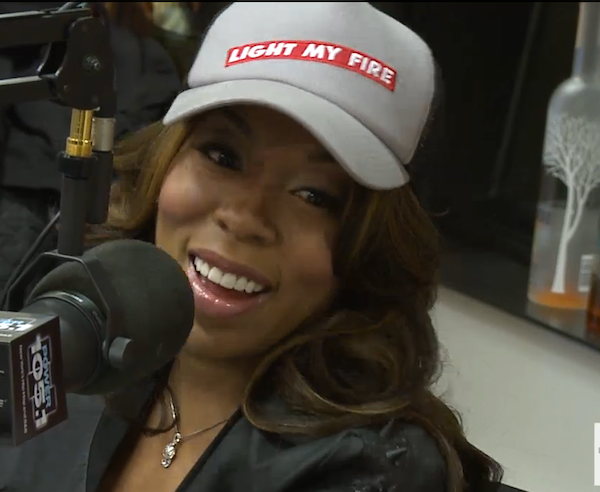 "LAHH ATL" star K. Michelle chopped it up with The Breakfast Club this morning where she spilled the deets on her split from New York Knick J.R. Smith, her upcoming album being all about him and what she thinks about Mimi Faust's new man. Get the deets inside....
Singer and fiesty reality star K. Michelle stopped by The Breakfast Club yesterday (and it aired this morning) where she talked about her upcoming album on Atlantic Records called Rebellious Soul. The pretty gal revealed that the entire album is about her "relationship" with NY Knicks star J.R. Smith.
"That whole album is about that boy [JR Smith]. When dudes use us for coochie, I use them for songs." Ha!
She added that she got her her heart broken in the end. "Yeah, man he played me. I was in love. I was so open dude, I was ready to cook breakfast naked. I was ready to sit down. I was very sincere."
She says the last straw was when he posted some nasty comments about her on Twitter, trying to intentionally hurt her feelings. After that...she was done. However, she says he gave her enough material for three albums. Damn!
K. revealed that she is dating someone new, but she won't speak about it publicly. Though she is not in a committed relationship with him yet, she says she feels like she already shares enough of her personal life and wants to keep her love life private. Another reason she is keeping it private is that she doesn't want to have a high body count (sexually speaking) in the industry. Because we all know how that goes.
And she mentioned her friendship with Keyshia Cole saying that they talk on the phone a lot. When asked about Keyshia dissing Michelle Williams, she said she knows that Keyshia is a nice person and was only throwing shots because she had felt like Michelle had dissed her earlier. (Does Michelle even know who Keyshia is?)
The reality star also confirmed that she's in the middle of taping the second season of "LAHH: ATL" and she's already cursed out most of her castmates. No surprise there.
Oh, and she revealed her thoughts on Mimi Faust's new man. "Mimi has a new boyfriend, I think he's downlow. That's my opinion. Normal stuff I wouldn't be in the middle of. I really just wanna be in the studio." We weren't going to say anything, but since K. did.....
Listen to the full interview here:
The Randomness:
1. Prince Michael Jackson Named 'Entertainment Tonight' Correspondent. STORY
​ ​
​ ​ ​