Usher Surprises Clive Davis On "Katie" As Clive Reveals His Own BISEXUALITY
​
Feb 19 | by Natasha
​ ​ ​ ​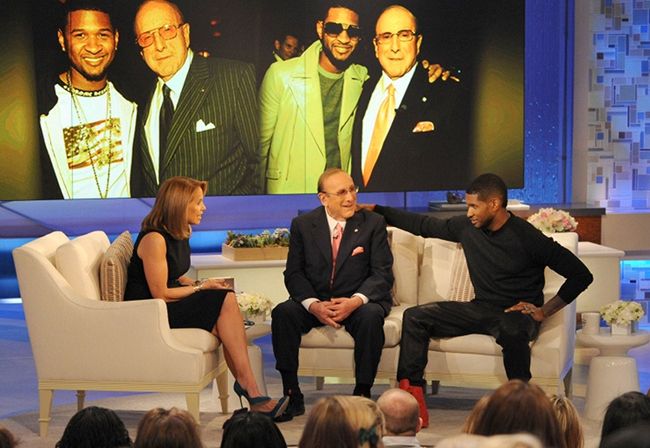 Usher will make a surprise appearance for his mentor Clive Davis on today's upcoming taped episode of "Katie". But it's what Clive reveals in his new memoir, which he's now on a media tour for, that has everybody's eyebrows raised.
Check out one of music's biggest head honchos, Clive, revealing his bisexuality...
Usher jetted into NYC early just to surprise the man who created the label where he got his start, Clive Davis. The 80-year-old recording industry exec has written his new memoir, The Soundtrack of My Life, and has opened up about his incredible career of being the man behind artists like Alicia Keys, Kelly Clarkson, Jennifer Hudson and especially legends like Whitney Houston, Gil Scott Heron and Aretha Franklin. He also helped Babyface and L.A. Reid create LaFace records and Diddy create Bad Boy.
So with such a prolific career, especially in R&B acts and Rock acts, we're sure there are some tales to be told.
USHER said about Clive during the show:
But-- he-- you know, just to kinda give you a, I guess, a testament of-- of the pay it forward. You know, without that artist development and that ability to understand how to-- present myself and have an understanding of style, I would not be in the position to be, you know, a coach on The Voice-- and-- and-- introduce talent like Justin Bieber and-- writers like Rico Love, who was...my actual first artist, who went on to be an incredible writer and also producer. But-- you know, without that artist development of Arista and LaFace Records, I wouldn't be the mentor that I am today.
In the memoir, Clive gives detail about Whitney Houston's denial of being drug addict and the interventions he says he attempted to stage. He also used the last 5 pages of his book to make a big reveal--that he's bisexual and is currently in a relationship with another man.
USA Today reports:
Davis, who is twice divorced, remains close to his family, which includes three sons, a daughter and six grandchildren, and to friends, with whom he vacations regularly. Soundtrack's aforementioned personal revelation acknowledges "something that my children and close friends have always known, but that I knew I would need to discuss in a biography": He considers himself bisexual.

"After my second marriage failed, I met a man who was also grounded in music. Having only had loving relationships and sexual intimacy with women, I opened myself up to the possibility that I could have that with a male, and found that I could."

Davis is currently involved with another man (who isn't in show business), "but I never stopped being attracted to women. Bisexuality is misunderstood; the adage is that you're either straight or gay or lying, but that's not my experience. To call me anything other than bisexual would be inaccurate."
Very interesting. He may speak about it on today's episode of "Katie." A preview is below:
​ ​
​ ​ ​