PHOTOS: 2013 OSCARS Red Carpet!
​
Feb 24 | by Natasha
​ ​ ​ ​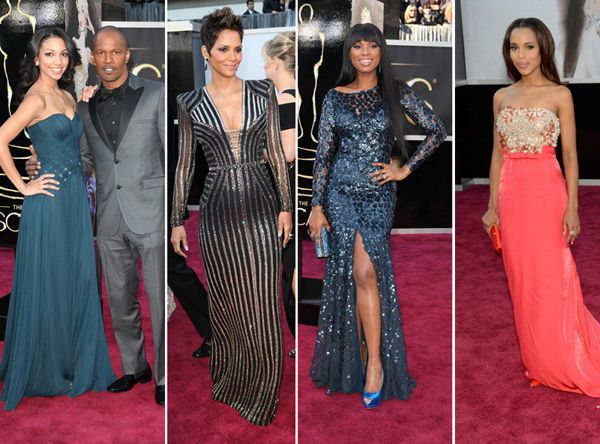 Tonight at the Dolby Theater in Los Angeles, our fave YBF celebs hit the biggest red carpet of the season. Check out the glitz, glamour, and sexiness of Halle Berry, Jennifer Hudson, Kelly Rowland, Kerry Washington, Jamie Foxx and plenty more inside at the 2013 Oscars...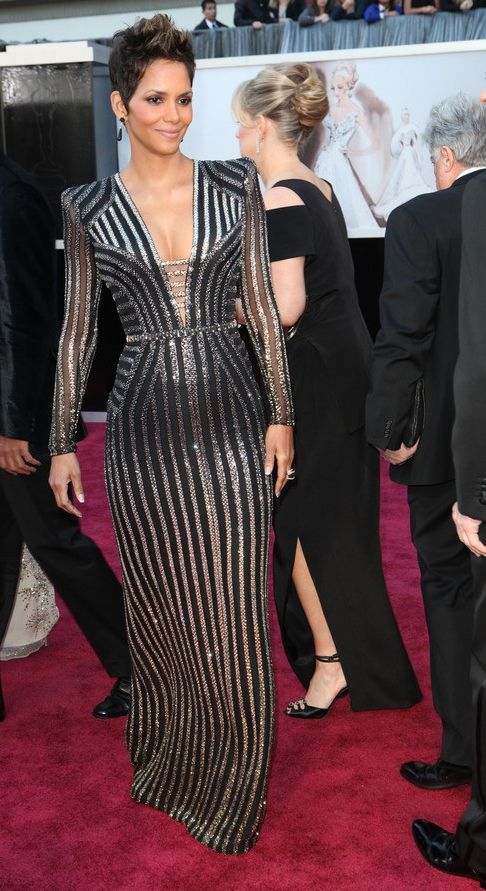 Let's take a moment for this vintage perfection that is Halle Berry in a custom Versace black & silver sparkling gown. Ms. Berry revealed that, since she's presenting in honor of the James Bond 50 year anniversary, she had Donatella Versace make her a gown to reflect her Bond days. Hot! The former Bond girl also rocked Adeler earrings and a Le Vian ring.
Django Unchained star Kerry Washington had a melon-like moment on the red carpet in a coral strapless beaded bodice Miu Miu gown. As usual, she kept her hair and makeup simple and looked simply gorgeous. We wanted a bit more OOMPH..since this IS the Oscars...but she knows what works for her body and this is it.
Before showing off her Fred Leighton diamond ring and Chopard earrings, she dished to E! Host Ryan Seacrest about her Oscar day routine saying, "I started today with a workout...I had to get the workout in early. I did Pilates so I feel tall and lean and strong."

She completed her look with a matching Prada clutch.
Oscar winner Jennifer Hudson channeled a sexy mermaid in her navy blue high slit gown from Roberto Cavalli and Sutra opal and diamond earrings and ring. She paired the look with Giuseppe Zanotti metalic blue pumps. The singer/actress, who is performing a song from Dreamgirls tonight, dished to E! on how she chose this particular gown:
"I love it and it's such a great pop of color on this Academy Award red carpet. Oh my God it took 3 fittings, 3 days of fittings. 3 hours each. It's serious business to choose. My stylist cried tears of joy."
The dress and color looks great on her new bod.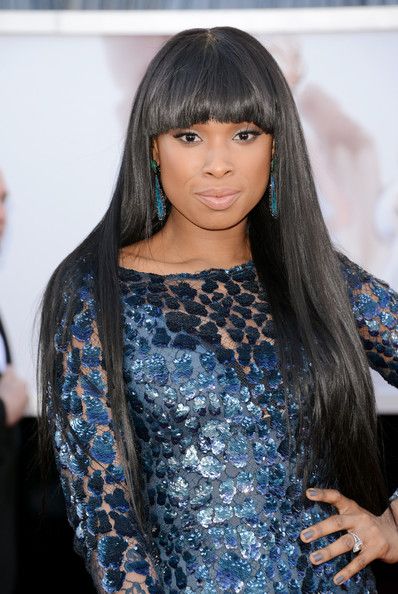 Jenny loves a "shocked" face doesn't she?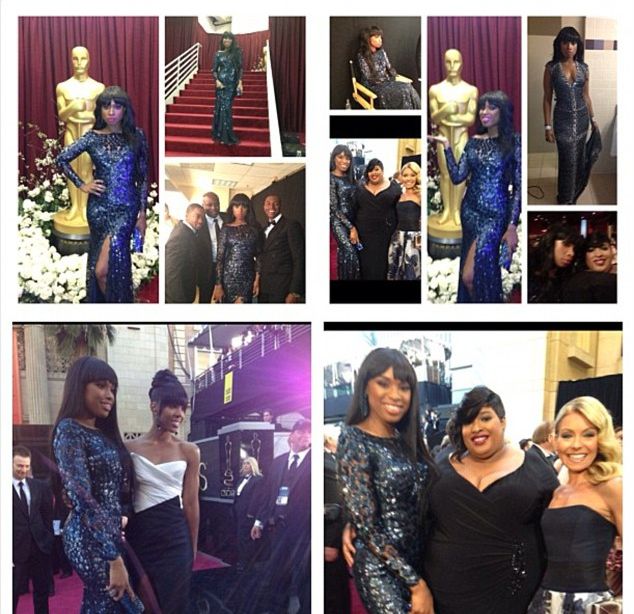 She brought her sister Julia along as her date for the night, posed it up with Kelly Rowland and Kelly Ripa (in Carolina Herrera), and spoke about working on her newest musical, Black Nativity.

Kelly Rowland chose another winner after the Grammys as she hit the red carpet in this black & white stunner. She rocked this strapless exaggerated sweetheart neckline Donna Karan Atelier gown with a black skirt and high slit to show off her gams.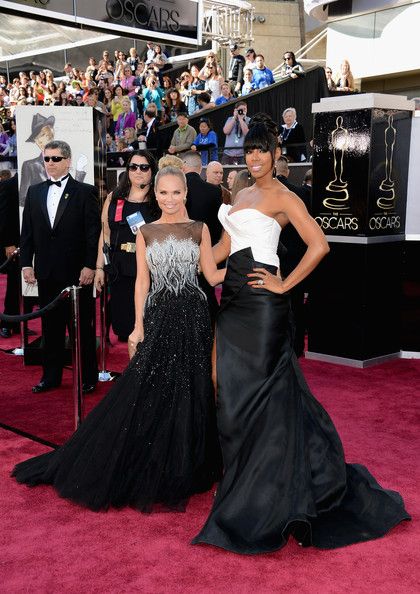 Amazing look for her. She also hosted the red carpet for ABC alongside Kristin Chenoweth (in Tony Ward), and folks were wondering about that diamond on her left hand's ring finger. Hmmm. Her boyfriend/manager Tim Weatherspoon also Instagrammed a few pics of his lady backstage.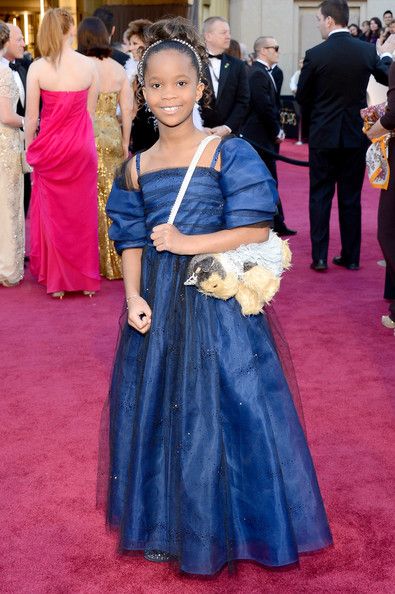 Little 9-year-old Wallis kept her Armani dress very age appropriate as she's done all awards season. The youngest nominee in Oscar history and dog lover told the story behind her cute puppy purse as well saying, "I named this one after my puppy at home, Sammy."
She said about choosing this cute dress, "I picked this because it's sparkly and fluffy." And since Q's a huge Demi Lovato fan, Ryan Seacrest played video of Demi on the red carpet wishing her congrats.
And she even got to catch up with Halle.
We know Oscar winner Octavia Spencer loves Tadashi Shoji....but this dress is not the best choice for her. The actress has been making her rounds promoting Sensa, the new weight loss product she endorses, and she's lost 20 pounds. But thanks to all this unnecessary tulle and fluffiness of the Tadashi dress, no one can tell.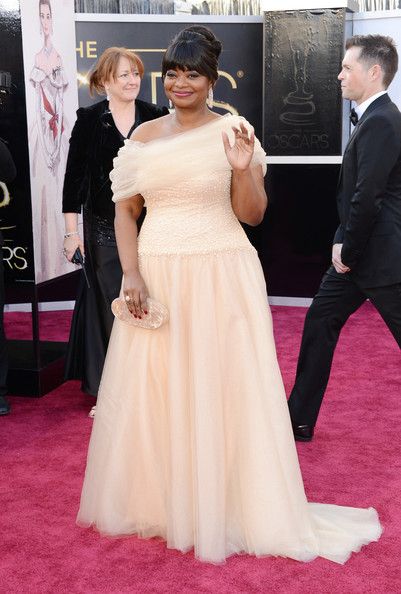 There's so many other choices that would have been fabulous for her. But we wish she would have reserved this one for the church banquet. She accessorized her look with a Judith Leiber clutch and Lorraine Schwartz jewels..
Upcoming Nina star Zoe Saldana rocked a look that's much talked about tonight on the red carpet: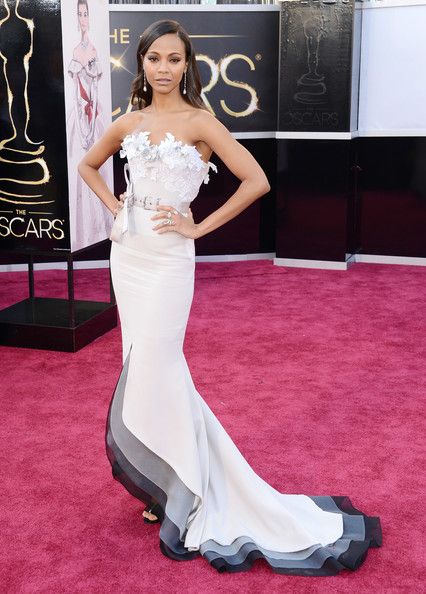 The pale lavender/white and black/grey trimmed Alexis Mabille couture gown wasn't our fave, but she did have an ethereal look on the carpet. She's gorgeous and it's hard for her not to look that way regardless of what she's wearing. The asymmetrical ruffled hem and decadent floral trim on the bust line gave the dress a punch. But maybe it's the faux belt that gets us...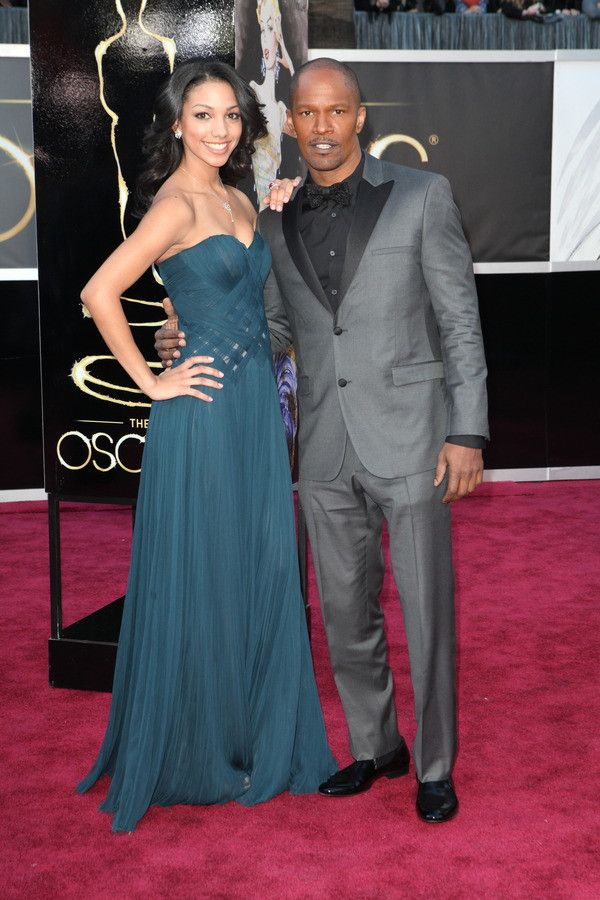 Django Unchained star Jamie Foxx looked great with his John Asher stingray bowtie...but mainly due to his gorgeous 19-year-old daughter Corinne being his date for the night as usual.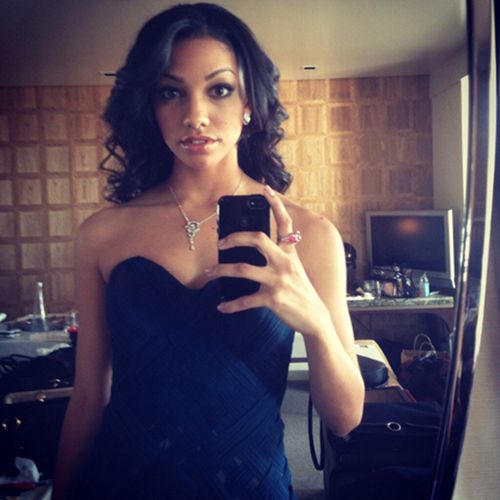 As Jamie was interviewed by Kelly Rowland on the carpet, who he made blush by flirting with her and revealing his crush, he dished on what he and Corinne talked about in the car on the way over:
"I was listening to my daughter talk about college and relationships. I'm always shooting movies so when we get in the car, we're just catching up. Talking about love…you know."

Sweet!
Skyfall star Naomie Harris avoided a wardrobe malfunction on the carpet in this extra sexy dress with an up-to-the-hooha slit. The gown was the winning design in Suzy Amis Cameron's Red Carpet Green Dress Challenge. So it's environmentally friendly including the bodice embellished with vintage glass beads and chocolate wrappers!
A press release stated that the gown, designed by Ghana-born fashion designer Michael Badger of Savannah College of Art and Design, was inspired by volcanoes and the appearance of flowing lava. Badger was also mentored by Vivienne Westwood.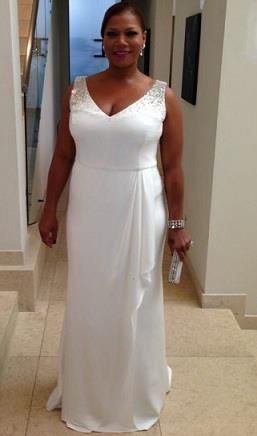 Queen Latifah was there to present and rocked a white Badgely Mischka gown. She looks good.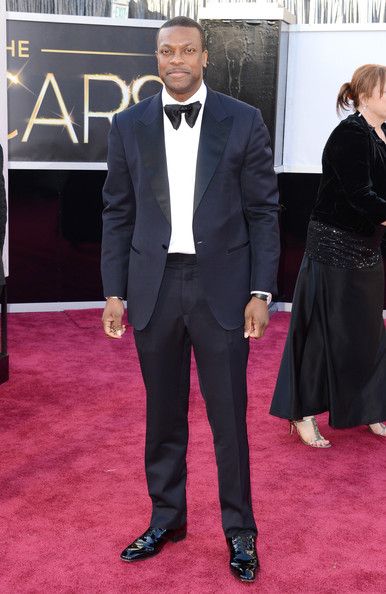 Silver Linings Playbook star Chris Tucker hit the carpet looking clean in his look. And as for his comedy career, he's headed back out on the road saying, "I'm going on tour and just filmed my stand up comedy movie that's out soon. I've grown up over time. i talk about all that, friends and family and all that."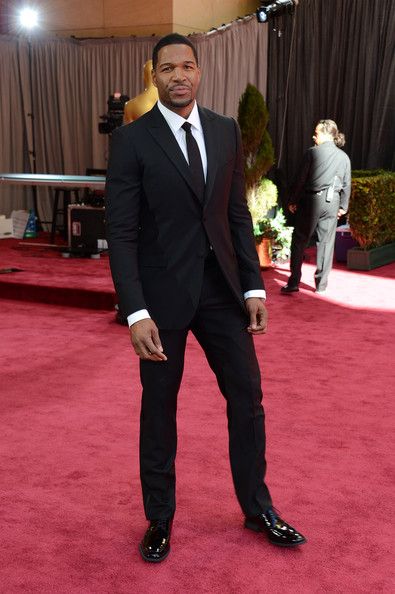 "Live" co-host Michael Strahan looked pretty dapper...pursed lips and all.
Lincoln actress Gloria Reuben rocked an Oliver Tolentino Couture dark purple silk organza mermaid gown complete with rosette cut-outs.
Correspondent Shaun Robinson looked nice as usual in her black and nude David Meister strapless gown, Mark Lash jewelry and Swarovski clutch.
Robin Roberts returned to her post at ABC's red carpet show looking stunning in a royal blue Marc Bauwer gown.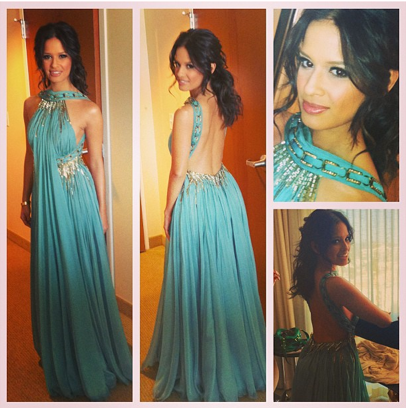 And "ET" correspondent Rocsi Diaz showed off her Jean Fares Couture gown on Instagram before jetting out for the evening. Pretty.
Who are your faves?!
BONUS: Check out video of J-Hud running into Quvenzhané on the red carpet Sunday night and giving her some sound advice about handling the Oscars:
Photog: Anthony Tilghman

​ ​
​ ​ ​