EXCLUSIVE: "The Door" Director Ava DuVernay--Talks Historical Sundance Award & Telling TRUE STORIES About Black Life
​
Feb 28 | by _YBF
​ ​ ​ ​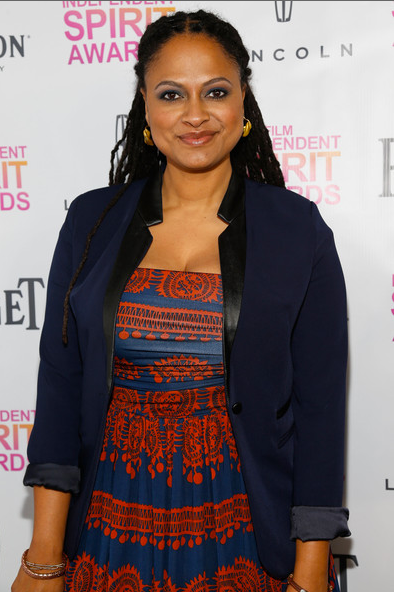 Award-winning filmmaker Ava DuVernay is helping usher in a new wave of Black directors and auteurs committed to creating realistic depictions of Black life. And the up and comer's got top YBF celebrity women and fashion houses like Gabrielle Union, Alfre Woodard and Miu Miu Prada already in her fold.
Meet Ava inside to find out why, and her take on what's missing on the big screen...
Indie director Ava DuVernay and her wonderfully shot depictions of African American life have been bubbling over since her directorial debut with the critically-acclaimed 2008 hip hop documentary, "This is The Life." But it was her 2012 historic win at the Sundance Film Festival for her second feature, Middle of Nowhere, that has help generate a much-needed buzz around Black film and their need for an audience.
She's the perfect subject to close out our Black Making History campaign on the last day of Black History Month. As the first black woman to win the Best Director prize at Sundance, Ava prides herself on telling realistic stories about Black life and creating a platform to help other storytellers. During an exclusive chat with TheYBF.com, Ava opened up about her journey and how Black audiences can access the films that tell the stories they desire to see.
Ava is a graduate of UCLA where she studied English and African American studies. And she began her career as a studio publicist for tv shows like "Girlfriends" and movies like Dreamgirls and The Help. So how did she make the leap? She tells us, "Being on a film set and being around directors, I started to catch the buzz and I said to myself, 'I can do that. I have stories to tell. I wanna to give it a shot.'"
But with bills to pay, Ava realized she needed to keep her full-time gig while exploring her newfound interest. One year, she used her Christmas break to make a film (because she never went to film school, she considers that to be her first film). And with that...she became a full-fledged filmmaker.
"There was a lot of fear around it (making films), but one of the things that helped me was that I did it gradually. I think a lot people think that when they have a dream it needs to be all or nothing right away. And I think it was really powerful for me to keep my one foot in what I knew and just dip my toe in experimenting and following the dream."
So how'd she go about making the dream come true?
"I would write or direct things at night. I would go observe other directors on the weekend and I would still have my full time job as a publicist. I think that helped me when I look back."
Her advice to other artists chasing their dream is, "You don't have to make a change cold turkey. You can do it gradually and then look up and you have gotten to where you are going."

And where Ava's going and where she's been shows quite an impressive journey. In 2010 she directed three network documentaries in 2010 including "My Mic Sounds Nice" ( a definitive history of female hip hop artists) the "Essence Music Festival 2010" (documenting the nation's largest annual African-American entertainment gathering) and "Faith Through The Storm" (about black women Katrina survivors). And 2011 saw the release of I Will Follow starring Salli-Richardson-Whitfield, which Ava wrote, produced and directed.
But it was her Sundance win for Middle of Nowhere, which tells the story of a black woman struggling to support her incarcerated husband, that brought international attention to her method of storytelling.
And that win helped opened the door (literally) for a silent-film she produced for Miu Miu Prada called "The Door", starring Gabrielle Union and Alfre Woodard. And it took the internet by storm.
When asked about her approach to films, she shared,
"I just want to tell true stories that deal with real Black people and not the most heightened and tragic moments. Those things do happen, but there are also parts of our lives where we struggle with the normal emotions of our heart like grief, fear, loyalty and love. I feel like I see those things portrayed in films for mainstream culture but everything I see in Black films is heightened. In my films I just try to show everyday black people living everyday lives that are spectacular just in their everydayness."
For folks who constantly complain about the current crop of Black films that normally see wide releases, Ava adds, "The films that we want are there….but they are not getting to us easily. We have to demand them."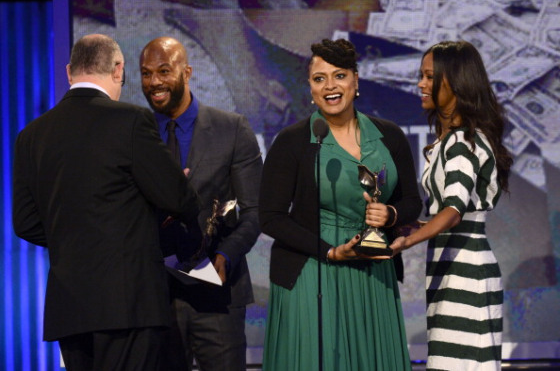 Ava, who just won the prestigious John Cassavetes Award for 'Middle of Nowhere' this month (pictured above) at 2013 Independent Spirit Awards, shared that there are many more Black directors and filmmakers out there who are telling stories that deserve to be heard. To help spread the word, she founded AFFRM, the African-American Film Festival Releasing Movement, which aims to distribution independent African American films.
"There are a lot of these beautiful independent films by black directors that are so gorgeous but we can't get larger audiences because people just don't know about them. We want to get more Black people aware that there are great films out there and when they come to your city….you have to go see them and you have to tell people about them!"
It's one thing to complain about the state of black film, and it's another to recognize the importance and make history by doing something about it. Follow Ava DuVernay on Twitter at @AVAETC.
Find out more about Black filmmakers and their movies online at AFFRM and on Twitter @affrm.
Check out the rest of the features in YBF's Blacks Making History Campaign below:
Johnny Wright, Personal Hairstylist to First Lady Michelle Obama
Rihana Gunn-Wright, 2013 Rhodes Scholar
​ ​
​ ​ ​