TV FAB: DMX & Sheree Whitfield Set To Appear On "Iyanla: Fix My Life"
​
Mar 06 | by _YBF
​ ​ ​ ​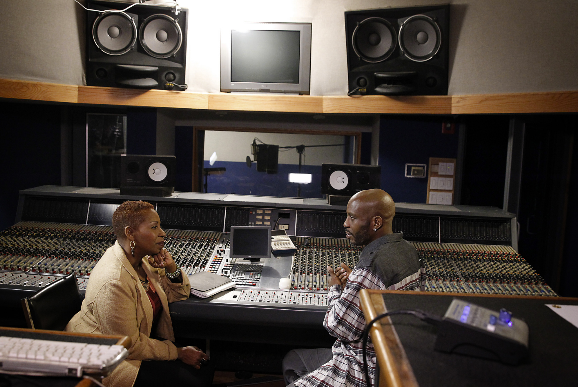 Rapper DMX and former "RHOA" star Sheree Whitfield are two of the famous faces who'll pop up in sessions with life coach Iyanla Vanzant on the upcoming season of "Iyanla: Fix My Life." Watch a preview inside and get the deets on shows starring La Toya Jackson and Kym Whitley.
Oprah's OWN network hit upon ratings gold when Iyanla Vanzant sat down with controversial "BBW" star Evelyn Lozada last year, and now season two of "Iyanla: Fix My Life" follows the same format with rapper DMX and former "RHOA" star Sheree Whitfield working through their issues.
In the explosive season premiere, Iyanla travels to the hometown of the multi-platinum rapper DMX where she tackles one of the most controversial sessions of her career. And the two get off to a rocky start when DMX shows up high for one of his meetings with Iyanla. From the preview alone, it screams "must-see."
And in a future episode, Iyanla will sit down with both Sheree Whitfield and her ex-husband Bob Whitfield as they reveal how they truly feel about one another and learn to co-parent. Something tells me they will need more than Iyanla. And we hope they address Sheree's delusions of grandeur.
Watch a preview of DMX's episode here:
Also on OWN this season...
Previously, we told you that La Toya Jackson would be among the famous faces kicking off a new season over at OWN and now we have more deets about her show. According to the press release,
"Life With La Toya" takes viewers inside the outrageous world of La Toya Jackson—the wild card of one of showbiz's most famous families—as she tackles love, career and maybe even parenthood, all on her own unpredictable terms. The new reality series gets up close and personal as La Toya hunts for a new house, builds new business ventures, contemplates starting a family and perhaps the biggest of all --- jumps into the dating pool for the first time, ever. On board for her new adventures are La Toya's devoted business partner Jeffré, her legendary mom and dad, a pair of meddlesome matchmakers, a magician, a lovelorn lifeguard and La Toya's lifelong best gal-pal Kathy Hilton (yes, Paris' mom). La Toya also opens up about her tumultuous past darkened by an abusive ex-husband, the death of her brother and family feuds."
And then there's Kym Whitley....
Funnywoman and voice-over queen Kym Whitley will star in "Raising Whitley" where we will watch her become a first time mother with the help of a core group of friends called "The Village." Kym found herself gifted with a little boy named Joshua after a young woman, whom she was mentoring, abandoned him and left Kym as the only contact number. Who knew?
Over the season, Kym learns the chaotic realities of becoming a full-time mom.
It looks like OWN has come up with an interesting line-up of shows this year. Here's when you can catch the shows:
Saturday, April 13
9:00-10:30 p.m. ET/PT "Iyanla: Fix My Life" (season premiere with DMX)
10:30-11:00 p.m. ET/PT "Life With La Toya" (series premiere)
Saturday, April 20
9:00-10:00 p.m. ET/PT "Iyanla: Fix My Life" (all-new episode with Sheree Whitfield and her ex-husband Bob Whitfield)
10:00-10:30 p.m. ET/PT "Raising Whitley" (series premiere)
10:30-11:00 p.m. ET/PT "Life With La Toya" (all-new episode)
​ ​
​ ​ ​