Porsha Stewart Retains Same Lawyer As Michael Jordan's Alleged Baby's Mama + Kandi & Kenya SPEAK OUT In Support
Mar 27 | by Natasha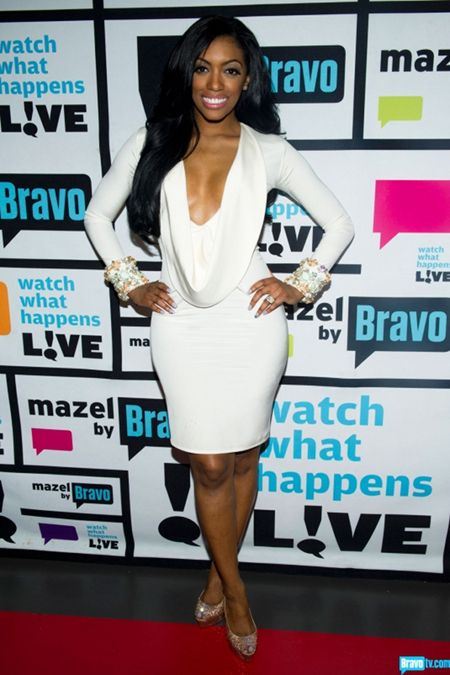 After getting blindsided with divorce papers from her husband Kordell Stewart, "Real Housewives of Atlanta" star Porsha nabbed an interesting choice of an attorney to represent her in the divorce settlement. Plus, the reality chick's co-stars are speaking out in support...
Deets inside...
Porsha Stewart has retained Randall Kessler as her divorce attorney. If you recall, Kessler also represented Pamela Smith--the woman who alleged Michael Jordan was the father of her 16-year-old son.
Pamela oddly dropped her case earlier this month, out of the blue, right after Michael's request to dismiss the case was rejected. So it led folks to believe she and her legal team received an offer they couldn't refuse.
So now that Porsha has retained the same legal representation, this divorce may not be as clean cut as Kordell wants it to be.
In his divorce petition, Kordell said that he did not want to offer spousal support, and also hinted that a pre-nup was in place because there would be no division of assets. And Porsha's attorney said today about the case:
"Typically there is a lot that happens but I can tell you that there will be a status conference where the parties get together and talk and the court helps direct them to work towards a resolution...I know Mr. Stewart's attorney very well and I have worked with him in the past and we will work with him in this case to the extent that his client allows."
If Porsha ends up challenging his petition for spousal support, things will get interesting. Kessler commented about Porsha possibly having the upper hand due to Kordell's words and actions being documented on tv:
"The short answer is that evidence is evidence. If you're on a security camera and we get it, or if you're on reality television and that's taped, that's evidence as well."
Meanwhile, Porsha's "RHOA" rival Kenya Moore spoke nothing but supportive words about the split (after saying she saw red flags before the split), and revealed she hopes they work it out. She told TMZ:
"It seems they just need to maybe iron some things out in their relationship. Maybe they could still make it work."

And co-star Kandi Burruss told CoCoa Fab today:
"I was very sad. I reached out to her. I didn't talk to her, but we spoke on text. I was really just hurting for her. I hate the whole thing that when people get on reality TV sometimes that can breakdown a relationship. I hate that for her. She really, really, really wanted her marriage to work."
Good luck Porsha.
Photos: Bravo, itsrobinlori.com