AND IT CONTINUES: Keyshia Cole Responds To The Dream Saying He Won't Work With Her Over Beyonce Diss
​
Apr 04 | by Natasha
​ ​ ​ ​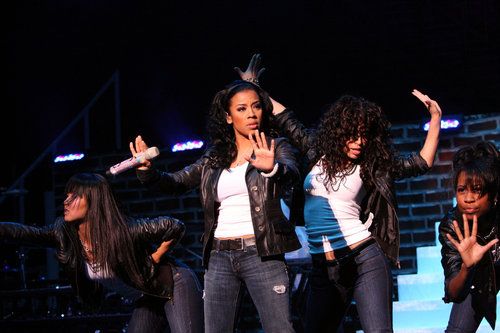 Retract those claws ladies! The Dream & Keyshia Cole are going at it in the places where all mature adult conversations go down in this business.....The Breakfast Club & Twitter. Check out inside why Key Key and The Dream are getting sassy with each other over that Beyonce diss...
After Keyshia threw shade at Beyonce over "Bow Down," The Dream put on his cape and announced he will no longer work with Keyshia because of it. Guess that means the backlash for shading "The Queen" has begun. Sigh. We told you this would happen Key.
During the "Falsetto" singer's interview on The Breakfast Club this week, the team did what they do best--stirred the shady pot. They asked Dream how he felt about Keyshia going for his girl over "Bow Down" and slamming her for doing the song. After he responded saying he wouldn't be able to work with her after that, Keyshia had some words of her own to say on Twitter about not being fazed:
Dream not writing any songs for me is fine... Im on my 6th album... He's only wrote 1 song on 1 of my albums, which i did love, God Bless
That one song, if you're wondering, is "Hey Sexy" off Key Key's latest album Woman To Woman. Dream's blacklisting plan may have backfired because I swear he just gave that song more pub than not....since no one even knew about that track in the first place.
Dream tweeted after Keyshia's response (and the public's response about his stance):
Really sooo no one is loyal to anything. People can't just say things about anyone and expect for their friends to be absent. I have nothin But Love for [Keyshia]. And if anyone feels they need to speak there mind please do. And no I'm not all that and their are great producers and writers around its But that has nothing to do with it. I think anyone who is commenting on where I stand should check ure friends, or Be checked by their friends. Cause I only know one Code
He continued:
Where they do that at? Be better people period. And be Positive and if u aint got nothin good to say then don't say nothin at all! Moving on got shit to do.
Well anyway, check the full interview below of what Dream Ruxpin told TBC:
Meanwhile, Keyshia is set to hit the Superdome stage at the 2013 Essence Music Festival on Saturday, July 6, the same night as Bey's little sis Solange.
BONUS: Speaking of Bey, the brand new trailer for The Great Gatsby was released today. And with Jay-Z executive producing the soundtrack, it only makes sense his wife Beyonce teamed up with Andre 3000 for an original song for the movie, and Lana Del Rey and Florence + The Machine are also part of the soundtrack. It can all be heard below in the hot new trailer:
Photo Credit: Robb D. Cohen/Robbsphotos.com via Access Atlanta
​ ​
​ ​ ​