Jay-Z Pops Back At Critics In "Open Letter" Ft. Swizz Beatz *UPDATED*
​
Apr 11 | by Natasha
​ ​ ​ ​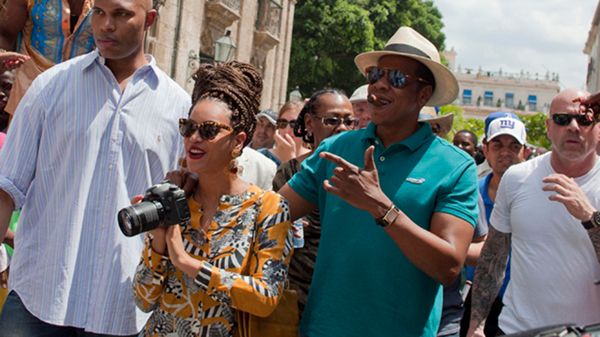 The Roc is back in the building as Jay-Z has some things to get off his chest. Check out his response to all the critics who have been going in on him lately in his new track "Open Letter."
This week was filled with everyone from Congressmen to celebs we forgot about going in on Jay & his wife for traveling to Cuba for their 5th anniversary. But even though Beyonce & Jay received a cultural license to legally travel to the forbidden country, protestors and activists were pissed at the Carters for supporting a "repressive regime" such as Cuba.
So after a week of criticism, an epic interview from Dame Dash who exposed what really went down with their business, and the usual scrutiny, Jay took it to the studio to give his response in a few bars.
Activists have been accusing President Obama of being "soft" on the Carters and their decision to travel to Cuba. So, Jay spit a line about the President saying they want to impeach him after his administration approved their license to visit the country. This ought to stir up some ish.
Hov tapped Swizz Beatz for the beat, and here's his full "Open Letter":
*UPDATE*
The White House press secretary, Jay Carney, spoke today during a press conference and denied that President Obama ever spoke to Jay-Z about the Cuban vacay. It was just lyrics. Most rappers exaggerate to prove a point in their songs and this was no different.
The lyrics in question are below:
"Obama said chill you gonna get me impeached, You don't need this shit anyway. You can chill with me on the beach/Would have brought the Nets to Brooklyn for free. Except I made millions off you fuckin dweebs/I still own the building. I'm still keeping my seat…"
The fact the question was even asked during an official White House press conference.....about whether Jay & Prez O ever spoke about the Cuban vacay.....is hilar.
Photo: AP
​ ​
​ ​ ​