Ray J EXPLAINS "I Hit It First" Track, SAYS "It's About My Life...It's A True Story"
​
Apr 11 | by _YBF
​ ​ ​ ​
Ray J is coming clean about his latest hit "I Hit It First" and reveals what we already know--if it's REALLY about a certain someone and her baby daddy. Find out what he said inside....
With eye-brow raising lyrics like, "She might move on to rappers and ballplayers / But we all know I hit it first ... I had her head going North and her ass going South / But now baby chose to go West", it's pretty obvious Ray was firing shots at his ex Kim K.'s baby daddy-to-be Kanye West.
So Ray J called into the Bay area's Wild 94.9 to discuss his new song "I Hit It First".
Of course everyone assumes the track is about K & K, but Ray J remained coy about the exact intent of the record. He only admitted that it's a true story and he's having fun. Clearly.
He added that in the coming days he will reveal the "model" featured on the track's cover (though we suspect its Kim K. or a chick he hired to re-create that Kim K. beach pic we all know the cover is based on). And there will be a video coming soon. Of course.
Here are the highlights:
On origin of "I Hit It First":

"It's just a song. Of course it's about my life. It's a true story. It's self explanatory. It's a real record. We living. We having fun."

On if the song is really about Kim Kardashian:

I can't say it's not about somebody. I can only say it's about me. And if people want to create it for another side that's fine. I want you to do that. It's great conversation. I just didn't want the motive to be in a negative way cause it's already such an edgy record. It's turnt up a lot.

On the single's cover photo:

We want it for the imagination. But on Friday....I'm gonna reveal the actual person that's in that shot. We coming back with the video next week.
And when asked if the video will have a certain "look-a-like" cast in the role of the video vixen, he simply said he thinks people will look-a-lot. Very crafty Ray...
Listen to the interview here:
BONUS: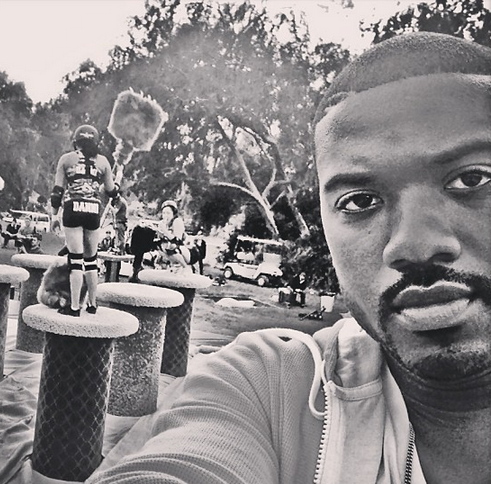 Ray J recently shared a pic from the set of his latest hosting gig, "Bad Girls Club All-Stars". "BGC allstars coming next month on #Oxygen lotta money on the line!! Stay Tuned!"
Is an All Stars version of this show really necessary?

​ ​
​ ​ ​