NFLer Kerry Rhodes REMAINS SILENT As "Alleged" Ex-Boyfriend SPILLS The TEA On Their Sexual Relationship, Laughs It Up At The Lakers Game With Karina Smirnoff
​
Apr 18 | by _YBF
​ ​ ​ ​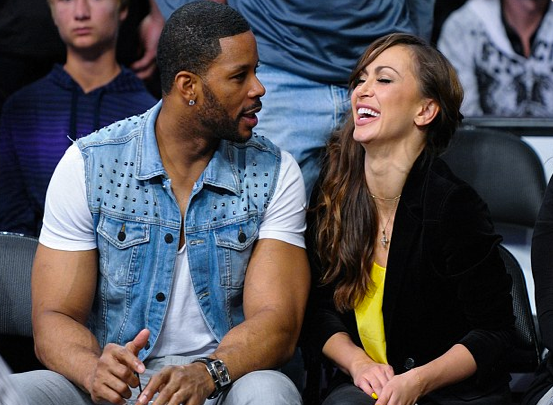 Though he denied being "gay" a few days ago, former Arizona Cardinals baller Kerry Rhodes has remained silent as his alleged ex-lover Russell "Hollywood" Simpson has exposed intimate details of their alleged--yet photographed with some suspcious proof--relationship. Read Kerry's denial and listen peep the controversial interview with the "scorned" ex-boyfriend inside....
Since the "outing" of Magic Johnson's son E.J. a few days ago, the positive reactions of high profile individuals like Magic Johnson (who's offered his support) and the National Hockey League (who've partnered with the You Can Play organization) have paved the way for the professional athletes to come out of the closet.
And with rumors that there would be four NFL players making their announcement "sooner than you think", it wasn't much of a surprise when suggestive photos of former Arizona Cardinals player Kerry Rhodes (shown above un-fazed at last night's LA Laker's game with "DWTS" star Karina Smirnoff), hit the internet. But Kerry says he wasn't one of the "first four" since he quickly issued a denial about the gay rumors to TMZ a few days ago saying,
"Photos have been circulating of my former assistant and I that have caused some rumors regarding my sexuality, and I wanted to address the situation."

"I am not gay."

"The shots were taken during a past vacation in a casual environment with my entire business team."
The photos in question show Kerry and Russell on vacay frolicing on the beach, canoodling in beach chairs (could have just been two buddies having close small talk?), sipping out of coconuts and more. But Kerry cleared up speculation that he might be a part of the "first four" saying,
"I know a lot of people are recently talking about athletes struggling to come out to their fans right now, and I support them, as well as wish those individuals comfort."
While Kerry's denial might have cleared things up for the NFL (he's currently a free agent), it REALLY pissed off his alleged ex-boyfriend/assistant Russell.
Russell, who left any notion of being just the alleged boyfriend at the door, gave a VERY detailed interview to BallerAlert about his intimate relationship with Kerry. he said things like:

"They said 'Well maybe he loved him like a little brother. Listen, if he loved me like a little brother, he f**ked me like a wife!"
*Clutches Pearls*
Here are a few highlights from Russell's interview. And by the way, we're all for being YOU. You aont gotta lie to kick it. So if this is your boo Kerry, it's only right you claim that man. People get hurt when they're not claimed. But if it's all lies and cries for attention, carry on.
On Meeting Kerry

"I met Kerry about a year and a half ago when I went to Arizona for an assistant job. Me and my friend Alton went to Kerry's game. Kerry was injured at the time so he came up to our suite. He was interested in knowing who I was. He was looking for a new assistant and was interested in me and Alton. He wanted us to assist him."

I got to know Kerry and we became very close. I moved in with Kerry at his home in Arizona. At first we were just friends and we were getting to know eachother. Then we got into a relationship. We were in a relationship for a whole year. I was there, people knew who I was, they saw me as his top assistant. I handled everything for him. No one went to Kerry for anything."

On starting a relationship with Kerry


"Of course he came on to me. I'm too fabulous to come on to anybody. That's not what I do. I have a lot of men that come on to me. I don't come on to men because I don't know what time it is for you. I would never come on to a man. Honestly, a lot of gay guys are like me. A lot of gay guys don't come on to guys. It's always the other way around. It's always the manly ones. Of course I wouldn't come on to anybody. Yes, I thought he was attractive but I thought he liked girls."

On why he's speaking out and if he leaked pics to TMZ

The first set of pictures, I don't know how they got out because I did not put them out. If you go on my Facebook page you will see the same pictures but I always crop him out because it was nobody's business. Now what pissed me off about the whole situation is when he and I stopped talking and the pics got out. He said that he was NOT gay. To me he shouldn't have said sh**. If you're not going to tell the truth, don't try to make me look stupid. This is what I say: You can play Nintendo, You play XBox, You play lottery, You Don't Play Hollywood!
We reached out to Kerry's rep for comment earlier today and got no response. It's interesting to note that Kerry quickly issued a denial about the pics...but he has yet to respond to Russell's tell-all interview. Perhaps he's falling back and taking Russell's advice to just not say anything.
Listen to "Hollywood" spill all the piping hot & citrusy tea below:
Photos via Getty
​ ​
​ ​ ​