ON THE DOWN LOW: Kerry Rhodes Silent On New Text Messages Revealed By ALLEGED Ex-Boyfriend + John Legend ANNOUNCES New HBO Series "Down LO"
Apr 19 | by _YBF
As Kerry Rhodes' camps continues to avoid the rumors of the baller's sexuality, John Legend (who's friends with Kerry) has ironically signed on to produce an HBO series named "Down Lo." Read more inside....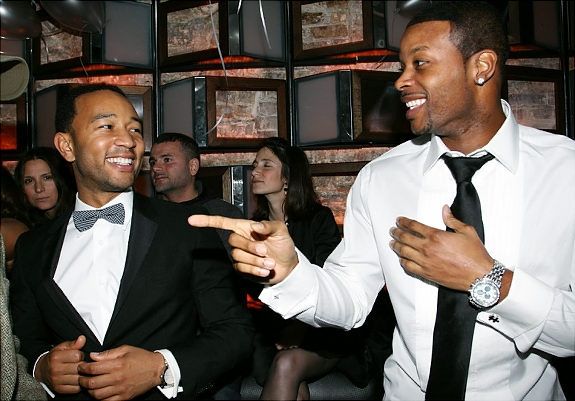 Despite the revelation of intimate text messages, more "vacation" pictures and Russell "Hollywood" Simpson giving a second round of salacious quotes, Kerry Rhodes' camp is going full-speed ahead with their "denials".
Though Kerry Rhodes has not publically addressed the rumors himself, certain sites claim his friends are saying he's going to shut down the person spreading the rumors soon. While we don't believe that report is at all credible, we'e just letting you know it's out there.
But apparently, Russell believes Kerry very well could have relayed that message. Russell has given ANOTHER interview where he released the lovey dovey ALLEGED text messages between the two and continues to deny "outing" Kerry. Here are the highlights:
On why he won't be silenced:


"Only way I'm going to stop talking is if I'm dead or I'm in the river. And if he throw me in the river, I can swim so he would have to kill me and then throw me in the river. If he just throws me in the river, I'm going to come out, hair wet and all, and ready to continue to talk about him. We all know that he can swim because he swum when he was in me, boo."

On how Kerry can profit from this:


"He can make money off this. Before now, people didn't even talk about Kerry. If you walked into a room and said, 'Kerry Rhodes had a nice game', the first thing the guys would say is 'Who is that?' If you walked into a room and said 'Ray Lewis had a great game' everybody knows who Ray Lewis is. I have really put him out there to make a little bit of money. It's not like I'm trying to hurt him. I have really helped him because before now, nobody was even thinking about his ass. He can make money off of it. I hear Nike is looking for the first gay athlete and they're going to pay him millions."



On people saying he's lying about the relationship:


"If you were not me, Kerry, my a**h*** or his d*ck, then you don't not know what went on in the bedroom."

Read the text messages here.
Meanwhile......
Kerry's friend John Legend has signed on to produce a new series for HBO called "Down Lo" under the umbrella of his Get Lifted Film Co. According to Deadline.com, the drama project, produced/directed by Tony Krantz, will be set in Miami's South Beach and will explores the intersection of three worlds — the party town's popular music scene and sports and fashion circles.
Told from multiple points of view, the daring new series will deal with fame and secrets...one of them will be a gay rapper living on the down low. Hmm...we wonder if John will pull on his first-hand knowledge of the industry?
"Down Lo" is being written by playwright/scribe Seth Zvi Rosenfeld, who's executive producing with Get Lifted's Mike Jackson and Ty Stiklorius. Reece Pearson serves as co-executive producer.
In addition to this venture, John is also working on a show with FOX about his upbringing. Well isn't that quite the coinkidink....
EXTRAS:
1. It's over! The second suspect in the Boston bombings who was on the run today has been found and taken into custody. STORY