Porsha Spills The Divorce Tea On "WWHL" With Vivica Fox + Best Parts Of The "RHOA" Reunion Finale
​
Apr 22 | by Natasha
​ ​ ​ ​
Porsha Stewart, dressed in a red hot Versace dress, made her way to Andy Cohen's "Watch What Happens Live" after the third and final installment of "RHOA" reunion aired. And she told all about her and Kordell's divorce. Plus, the best parts of the final reunion show installment of "RHOA"....
Poor Porsha. As much as her lazyness and ignorance irks us to no end, no one deserves to have to go through this type of divorce with the lameness that is Kordell Stewart.
Porsha told everything last night while she was on Andy's show with Vivica Fox. And it's just as bad as we thought. She was blindsided and learned of her divorce from Twitter:
I was totally blindsided. At the reunion (before the papers were filed), I did feel some kind of way because I did want my husband there with me. But I was standing strong representing for my family. I was a wife, that was my title and that's what I took on and had ownership of. But when I found out about the divorce it was absolutely a surprise. I was laying in the bed and woke up and I tweeted "Today is the first day of the rest of your life." And I put the phone down and took another nap like I always do sometimes (Sigh). And then I looked back at my phone and my sister was calling me over and over. She said "Have you heard?" I said 'heard what' and let me go to Twitter. (Double sigh)

The first thing I see is 'Kordell divorcing Porsha. I'm like, 'this is a crazy joke'. But yes, I found out from Twitter. I called my sister back and said I'm going to ask him about it--I went in there and asked him. He was there (in the house) (TRIPLE SIGH). I asked him had he filed. And I felt very disappointed and let down.
Porsha explained that divorce was not her choice, and she feels betrayed:
"When I got married, I meant it for life. I always said I would never get a divorce unless he cheated on me. I had to find out from my attorney if it was true, he had to look it up online. And yes, they're still living in the same house together. But she said that doesn't mean they speak and it doens't mean she's still cooking eggs and hamhocks. She says she spends time away with friends and family in Atlanta and "It's a difficult situation right now. It's something I did not want. I had asked previously can we work this out, can we go to counseling."
Word.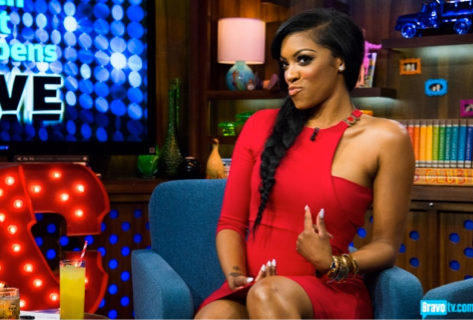 Now cue Pastor Porsha. Chick slipped into her Evangelist ways to preach on what a good wife should do:
"What you saw at the reunion was a wife trying her last try. When you are married you have to put 150% into your marriage no matter what. And if it doesn't work, you need to be able to walk away and say I tried. It aint always gonna be easy or a happy situation, but when you have made a vow to that man and the child you have in your home, you owe them that. So I feel like it was a betrayal that I suffered from and that's something I'm going to have to move on from. At least I feel like I put in my best at the end of the day."
Amen.
Meanwhile, Porsha looked great as usual and she and Viv had tons of fun with Andy: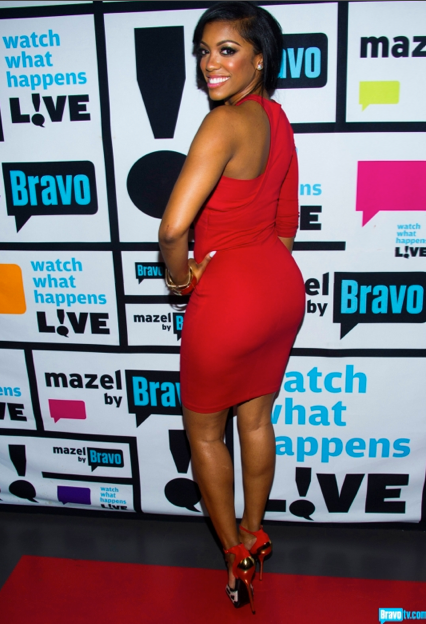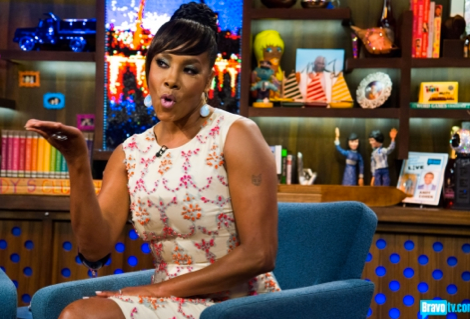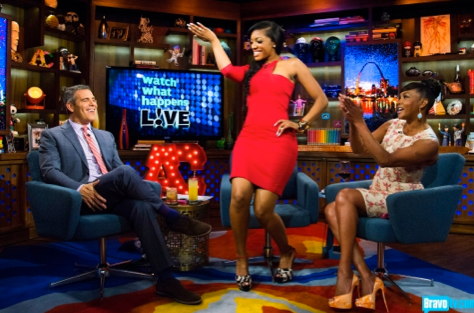 And for last night's final reunion show, we MUST discuss Porsha's singing.
She was dead serious. And not horrible. But def not the iconic collabo of every singer she previously named that she sounds like.
Apollo called out Kenya for texting him about how good he looked on the shows he was doing promos on, what she would do for him that his wife doesn't, and so on. Phaedra claimed Apollo told her everything. But....did he?
Are we the only ones who think Apollo would have def hopped on the Stallion Booty had Kenya given him the green light and not just the yellow? Hmmm....
By the way, we hear NeNe Leakes has added a few bridesmaids to her bridal party: Laura Govan and Jennifer Williams.
​ ​
​ ​ ​