IN CASE YOU MISSED IT: Mariah Carey's "Beautiful" Ft. Miguel + Mariah Is OVER "American Idol" Cattiness?
May 06 | by _YBF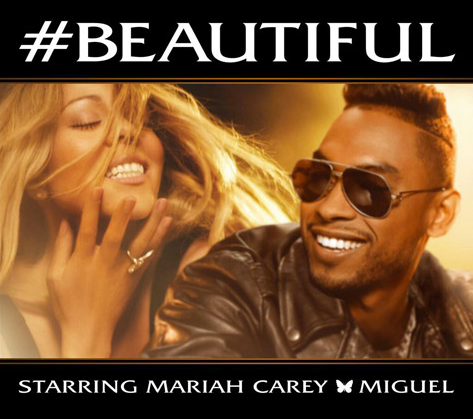 In case you missed it, Mariah Carey revealed "#Beautiful" featuring Miguel, the first single off her upcoming album, earlier today. Listen to the song inside, plus all the drama going down at "Idol" with Mariah allegedly wanting to LEAVE....
Earlier today, Mariah Carey released "#Beautiful", her collaboration with Miguel, which kicks off her next studio album (expected Summer 2013). Written and produced by Miguel and Mariah, a video for the song was shot and directed by Joseph Kahn and set to premiere Wednesday on "American Idol." Following the visual, Mariah is set to perform the song for the kickoff off the "Good Morning America" Concert Series on May 24 in Central Park.
Earlier today, Mariah called into Ryan Seacrest's radio show to explain why she chose Miguel for the song.
"I'm a huge fan of his music and as I think everybody's just so blown away by him right now. We got together. He had started writing this song with just the guitar riff. He's the truth."
Listen to "#Beautiful":
Unfortunately, everything isn't beautiful over on the "American Idol" set. The cattiness between Nicki Minaj and Mariah has reached a fever pitch, and reportedly, MiMi doesn't need it and is OVER IT!
Why is MiMi ready to twirl into her rainbows and leave Nicki right where she's at?
"Mariah doesn't want to come back, Nicki is really disrespecting her and she's tired of trying to bite her tongue all the time," an insider told FOX411's Pop Tarts column. "One night Nicki tried to be kind of nice, but Mariah didn't bite, so I guess she figured screw that."
Interestingly enough, we believe this one. Even after watching the show for 1 minute, the eye rolling, the passive aggressive ignoring and the shade throwing happens from start to finish. And it's quite uncomfortable to watch. Nicki believes Mariah is insecure and comes and simply doesn't like her. To us, it seems Mariah is just being the diva that she is and not going out her way to kiss anybody's ass. Or really pay that much attention to foolishness. And Nicki isn't taking to kindly to that.
And Mariah's hubby Nick Cannon is also defending his woman saying that FOX and others feed into the cattiness and perpetuate it, and Mariah isn't about that life..
Deadline.com reports:
She didn't sign up for that," the America's Got Talent host told LA's KTLA-TV morning show.
On air, Cannon accused "someone behind the scenes perpetuating" the conflict. Once the camera was off, Cannon blamed Fox Alternative Entertainment chief Mike Darnell for bringing Minaj onto the show, I have learned. "No one thought it was a good idea then and no one thinks it is a good idea now," I'm told Cannon said.

On air, he also said Carey predicted problems between her and Minaj before the two were brought on board, along with Keith Urban, as new Idol judges this season. "My wife [has] foreseen all this. She tried to tell the network, 'I don't think this is going to work, I'm afraid,' ' Cannon said. He added that Carey thought any attempt to set things up between her and Minaj was the wrong direction for Idol. "This is going to turn into one of those reality shows," Cannon said Carey, an Idol fan, told him. She added, "I didn't sign up to be on Love And Hip Hop."

Well...