MOVING ON: Monique DISCUSSES Her 82-Pound WEIGHT LOSS & Her OPEN MARRIAGE + TJ Holmes On LIFE After BET
​
May 13 | by _YBF
​ ​ ​ ​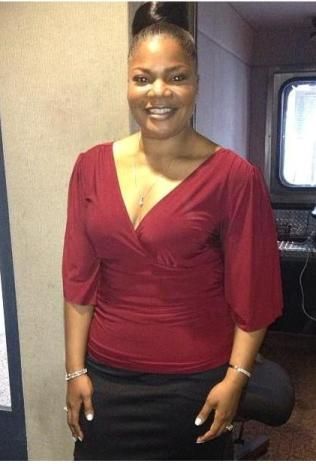 Both Monique and TJ Holmes, who've had their BET projects cancelled, sat down to talk about their careers how they feel about the network since they left. Find out more inside....
Oscar-winning comedienne Monique stopped by Hot 97 this morning to promote her upcoming stand-up set in NYC and to discuss her dramatic weight loss. During the chat, she also discussed that "open marriage" comment she once made. And she revealed that she harbors no ill will toward BET about cancelling her talk show.
Here are the highlights:
On weight loss


"I tweet my work outs every morning because I want women to see, you don't have to let them cut you open. You don't have to let them suck it out. You don't have to let them put a band around your organs. All you have to do is put the work in and the weight comes off."

Right now, she says she weighs 218 and her goal is to get down to 190. She thinks her highest weight was 300.

On open marriage


Monique explained that the 'open relationship' idea was actually her idea because she traveled on the road so much. She says the idea backfired on her because she soon realized how special her relationship was. Now she still describes her marriage as "open" but for different reasons.

"We are open but we're open because we're honest. When I said open relationship people automatically though sex...but we have no secrets. They're nothing my husband doesn't know about me and there's nothing I don't know about him. We treat each other good in life....My husband's teaching me how to be his woman...how to be his wife."

On Charles Ramsey


"I admire that brother and I appreciate what he did. No he don't have no teeth...but Charles when we come to Cleveland...you have tickets to the show! That took a lot of courage. Normally we mind our business....we don't get involved...that brother said "Today...I have to get involved." What that brother did....was save lives."


On Iyanla Vanzant

"I can't fix nobody's life but my own. All I can share is my experiences..."

On leaving BET and what happened


"It was one of the greatest experience's of my life. We said we wanted people to feel good before they went to bed. I get asked the question "Monique what happened?" and I wish I could give you the answer. Honestly, I don't know. You're asking the wrong person. You should ask Deborah Lee, the President of BET. What I will say is to the people....I thank you. The "Monique" show was for our community."

Watch the interview here:
In other BET departures.....
Recently, BET confirmed the cancellation of its news program "Don't Sleep. We all knew it was coming...we all know BET isn't the place for actual thinking. And now, veteran newsman TJ Holmes is speaking to HuffPost about his life and career post-BET. Check out the highlights:

What happened to your relationship with BET?

The network, they made a decision that they didn't want the show to come back. That being the case, I don't have anything else to do at that network. I was only there to do that show for the most part. So if they decide they don't want the show on the air anymore, then there is no reason for that relationship to continue. So that relationship is over.

Were you shocked by the show's cancellation?

I have known for a while that the show was not going to return. I just wasn't able to say that myself and make it official, because the show is still the network's property. So they're the ones who are in charge in that regard of public message…And I think a lot of people have known for quite some time. It just took a while to make it publicly official.

Do you have a specific time frame on when you would like to land your next position?

No, because I don't want to make a mistake. My wife and I are blessed enough that we don't have to run out and find a job just for the sake of finding a job. But I'm really, really determined to get this next move right. I'm looking for a home. A place that I can see myself being for years and years down the road. So we are being very deliberate. And it's been nice to have this option and it's nice to be wanted to some degree.
Read more from TJ Holmes' sit-down here.
Monique Photo: AlwaysAList
​ ​
​ ​ ​