K. Michelle DISHES To "The Breakfast Club" ON Leaving "LAHH ATL", REVEALS Chad Ochocinco Bought Her A MONKEY!
May 21 | by _YBF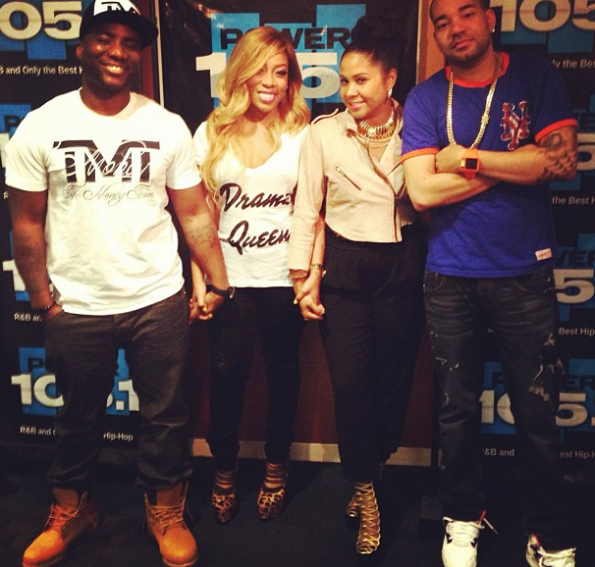 K. Michelle chatted with The Breakfast Club earlier today where she discussed "LAHH ATL", her upcoming disc, Rebellious Soul, and revealed that Chad Ochocinco bought her a pet monkey! Watch the interview inside...
Singer K. Michelle stopped by Power 105 this morning where she talked to The Breakfast Club about her upcoming disc Rebellious Soul (July 30th) and her latest single, "VSOP" which we shared with you yesterday. During the morning chat, which touched on her feuds with fellow "LAHH ATL" stars Kirk Frost & Rasheeda, her infamous temper, and her friendship with mentor R. Kelly, the "Fallin" singer revealed that she plans to leave "LAHH ATL".
She also revealed that Chad Ochocinco, who's dealing with a few legal troubles of his own, purchased her a monkey! Here are the highlights:
On leaving LHHATL:
"It's just time to go. I got some other things poppin' off. I got an album. They are actually bringing me to Love and Hip Hop New York. It doesn't matter how good I was singing, what was going on, nobody was listening to my music. All of a sudden I put out this mixtape, it got over a million downloads, all my shows are selling out, because they introduced me on this show. LHHATL was a great stepping stone for me and now coming to New York, that's basically setting up for my new show."

On fighting with Kirk & Rasheeda:
Like, Golden Girl came up in there tryna talk to me. He felt some type of way. Look, you run up-get done up. I sat still. I don't wanna hurt (nobody), but when you fight somebody, you fight them. You not gon' run up and yank anything from my head.

On Ochocinco and the Monkey he bought her:
You can't bring the monkey to New York, so the monkey is in Florida and I've been trying to find it a home. I've always wanted a pet monkey. Chad approached me and he tried to date me and I was like, "I don't want no shoes. Everybody wants shoes. I want a monkey." I thought it was a sweet gesture. We have not slept together. I've been through a lot with this dating thing. I talked to Chad yesterday. We are friends. That's what we need to be.
Listen to the interview here: BONUS:
As she preps for the release of Rebellious Soul, K. Michelle still makes time to give back to the community and she's partnered up with the ""Rebel Against" campaign for Saving Our Daughters. She explained her involvement in a BTS clip from a recent campaign saying,
"I teamed up with Saving Our Daughters to just empower women on different things that might make them feel inferior, whether it might be violence, racism, or anything that they might be struggling or facing from day to day."
Watch the BTS footage and check out Rebellious Soul on July 30.