MAKING MENDS: Nicki Minaj & Hot 97's Peter Rosenberg SQUASH Their "Summer Jam" Beef...But She Still Clowns Him During Interview
​
May 28 | by _YBF
​ ​ ​ ​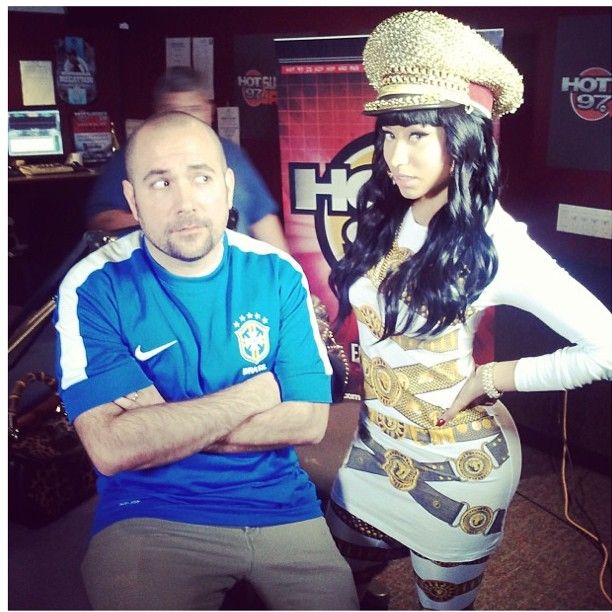 Nicki Minaj appeared on Hot 97 this morning where she confronted Peter Rosenberg, the on-air host whose comments about "Starship" caused YMCMB head honcho to ixnay Nicki from performing last minute at last year's Summer Jam. Watch the video inside...
During the summer of 2012, Hot 97 disc jockety Peter Rosenberg challenged the biggest female star in the hip hop music business (yeah it pains us to say it too), Nicki Minaj, when he dissed her for making a pop record. Well, he said it's a BAD pop record. Though he didn't know he was being recorded, the outspoken radio personality told thousands of New Yorkers, gathered at Summer Jam, "We about that real hip-hop, not 'Starships.'" His rant, which would quickly go viral and piss off thousands (if not MILLIONS) of Nicki Manaj fans, put his tail between his legs this morning in his first on-air interview with the head Barb.
In what amounted to a half hour apology (Hot 97 IS pushing their upcoming Summer Jam extra hard these days so we call this "promo"), Peter explained his side of the story. Nicki, looking slight annoyed, very bluntly said, "It cool. It's water under the bridge. It's so long ago I can't even act like I care." Bloop.

Nicki told Hot 97 program director Ebro Darden, who stays in the mix of ish, "In hindsight I should have just done the show. I wish I would have come out . I apologize [to the fans] for not doing the show."
And to explain why she was so taken aback by Peter's comments, she told him, "I don't know your resume. I never found you funny. I never found you entertaining. I never found you smart . I just found you annoying....To me it was like, who are you? You don't have enough of a resume to make those comments." Bloop bloop.

After another apology from Peter, Nicki was asked if she's ever been guilty of being a diva or tough? Nicki shot back, "Is Wayne tough? I handle my business. And also...I speak up for myself. If I was not like this, so many people would have taken advantage of me....People try to make such a big deal out of when a woman stands up for herself. Why? I see people walk on egg shells around Wayne."
We gotta agree with her there. The double standards for strong women in business period are very real.
Nicki explained that she grew up watching her abusive father take advantage of her mother and that made her decide, at a young age, that she's always going to stand up for herself and would not let men take advantage of her.
Snaps.
Watch the full interview here:
​ ​
​ ​ ​