SUMMER IN THE CITY: Cutie Blue Ivy Heads Out With Mom Beyonce For A Beauty Day
​
Jun 20 | by Natasha
​ ​ ​ ​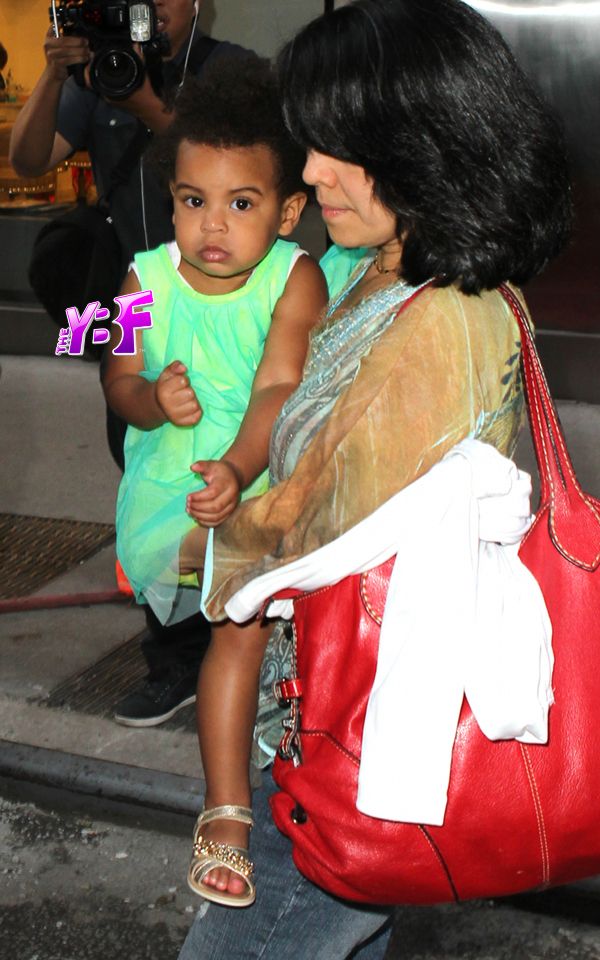 Let that cuteness be exposed Blue Ivy! In a rare occasion where he face wasn't being covered by hands or a blanket, or where she wasn't hiding her own face from the cameras, Blue Ivy Carter had the cutest stare down with the paparazzi yesterday in Manhattan. Check out the Carter heiress chillin' out with her nanny and her mom Beyonce yesterday...
Rocking a bright green dress and gold embellished sandals--like any 1-year-old Hip Hop Royalty baby would rock--B.I.C. headed out in Midtown Manhattan with Mama Bey yesterday afternoon. The cutie patootie was spotted being carried by her nanny (at least that's who the paps reported the above woman as) at one point as she stared down the cameras.
And she was also spotted being carried by her mom, who looked equally as colorful in a printed skirt and a cheetah bag with her own gold sandals. Check out that pic HERE since we're not allowed to post it.
Bey was likely coming from (or headed to) her long time makeup artist Mally Rancol to work on a secret beauty related project involving the makeup guru's beauty product line. Mally tweeted:
Wonder what these two are up to. We're sure it'll be something gorgeous and fab as always...
And if you're wondering what's up with Bey's new album, Ne-Yo says the powers that be are still trying to determine which direction the project should go. And she's still recording. He told Billboard this week while promoting his own "It's All Good" jingle for Unilever's Fruttare ice cream bars:
"I'm still putting stuff together for Beyonce's album. They're still trying to figure out what they want that to be, which I'm not mad at. Beyonce's the kind of artist where you're not gonna see it till it's right. And her fans -- they love her so they'll be patient."
There ya have it.
Photos: Splash News/Beyonce-Exclusives.com/Mally Rancol's Twitter
​ ​
​ ​ ​