EBONY Publishes FOUR "WE ARE TRAYVON" Covers With The Martins, Boris Kodjoe, Dwyane Wade, Spike Lee & Their Sons + The OFFICIAL "Winnie Mandela" TRAILER
Aug 06 | by _YBF
;
The September issue of EBONY is dedicated to Trayvon Martin and features four distinct covers starring Boris Kodjoe, Dwyane Wade, Spike Lee and their sons and Trayvon Martin's family. See the covers inside and watch the offical movie trailer for Winnie Mandela.
Responding to the national outrage that jumped off following the the "not-guilty" verdict in the George Zimmerman trial, EBONY magazine has devoted the September 2013 issue to Trayvon Martin and explores the "Stand Your Ground" laws.
Inside the issue, readers can find an exclusive interview with Trayvon Martin's parents, Sybrina Fulton and Tracy Martin and a piece on racial profiling from Columbia University Professor Marc Lamont Hill. There is also personal reflection from Spike Lee, Boris Kodjoe and Dwyane Wade on how they talk to their sons about racism in America and reflections from 17 year old students on how they feel about being Black men in America.
Also, Jill Scott dedicates a poem to Trayvon and Rev. Al Sharpton talks about turning anger into action.
EBONY's Editor-in-Chief Amy Barnett spoke about the issue saying,
"As a mother of a young Black boy, the tragedy of Travyon Martin affected me deeply. We simply cannot allow the conversations on this issue to come to a standstill. As the leading source for an authoritative perspective on the African-American community, at EBONY we are committed to serving as a hub for Black America to explore solutions, and to giving readers the information and tools they need to help ensure a bright future for all of our children."
You can cop the latest issue of EBONY on newsstands on August 6.
See all the powerful "We Are Trayvon" covers below: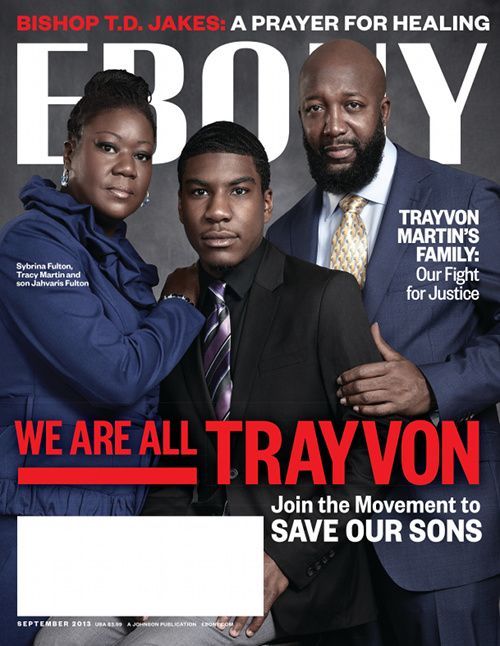 And at the movies.....
The long-awaited Winnie Mandela biopic, now titled Winnie Mandela, has a new US release date and official trailer.
Starring Jennifer Hudson and Terrence Howard, the Image Entertainment film will hit US theaters on September 6.
Terrence, who also co-stars in Lee Daniels' The Butler, recently spoke out about the domestic violence reports involving his ex-wife Michelle Ghent. He told Us Weekly on the red carpet of Lee Daniels' The Butler red carpet last night about Michelle's accusations that he beat her during an argument recently:
"Unfortunately I've tried to help people and it's not necessarily in the same enlightened path, of trying to help themselves."

He adds, "I just wish the best for her, but as far as me harming somebody… I really can't harm a fly. It's completely against my spirit, but I'm so heartbroken, that you can see that doing it on a night like this is only for an attempt to try and hurt me."

Watch the trailer above....