POLITRICKS: Will Social Media Put FASHION'S Lack Of Diversity On BLAST? + Is Former DC Mayor Adrian Fenty DATING Steve Jobs' WIDOW Laurene Powell Jobs?
​
Aug 09 | by _YBF
​ ​ ​ ​
Fashion Week in New York City might look a little different this year if a new social media campaign to increase diversity has it's way. Get the deets inside and find out what billionaire widow is allegedly dating one of Washington DC's former mayors.
For a very long time, numerous articles have been written about fashion's lack of diversity. And while there have been some leaps forward (Dsquared used all black models in their 2013 campaign (atop); PRADA hired its first black campaign model in 19 years(directly below)), industry veterans like supermodel Iman and former casting agent Bethann Hardison ARE NOT please with the progress. In a new article published in the NY Times, many notable voices in the fashion world call attention to the lack of diversity in fashion and how it drastically impacts other areas of social life.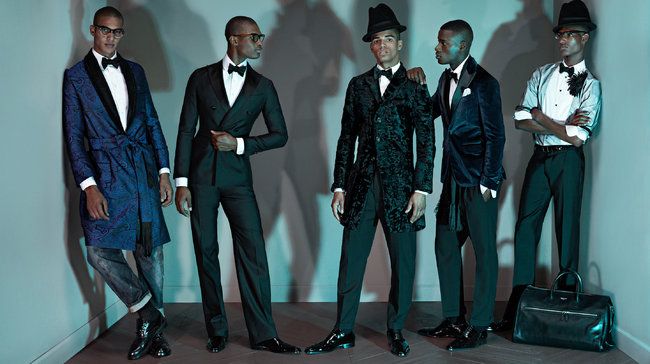 So why is diversity so important? Former supermodel Veronica Webb said it best, "....this is where a lot of young women get their idea of beauty from. When you see someone that looks like you...it makes women feel beautiful, and it makes women feel they belong."
Iman, who was quoted extensively in the piece, added,
"There is something terribly wrong… We have a president and a first lady who are black. You would think things have changed, and then you realize that they have not. In fact, things have gone backward."
So what are the next steps? The article hints at a social media campaign (that may begin BEFORE NYC's fashion week) that will call out designers who don't hire black models.
Bethann said, "No one in power slaps these designers around… All I want to say is, you guys have a lot of explaining to do. If you are going to be bold enough to do it [only cast white models], then please be bold enough to explain it."
While the social media campaign is still be planned, Iman already seems on board with the efforts.
"It feels to me like the times need a real hard line drawn like in the 1960s, by saying if you don't use black models, then we boycott. If you engage the social media, trust me, it will hurt them in their pockets. If you take it out there, they will feel the uproar."

CALLING ALL FASHIONISTAS: Get your Twitter/Facebook/Instagram hashtags ready. In the words of LAHH ATL's Mama Dee, "Change Is A Coming".
And in BIG MONEY politics.....
Both Silicon Valley and Washingtin D.C. are buzzing about about former D.C. mayor Adrian Fenty dating Laurene Powell Jobs, the billionaire widow of Apple co-founder Steve Jobs.
According to the Washington Post, the former mayor first headed to the Valley with a gig at Andreessen Horowitz, one of Silicon Valley's largest venture capital firms. From there, he met Laurene Powell Jobs at a Houston education conference in 2011 where they bonded over a shared passion for school reform.
In February 2012, the couple started working together as Adrian joined the board of College Track, a non-profit college prep program for underserved students co-founded by Laurene.
The source told the WP that it's important to note that Adrian and Laurene's romance began AFTER Adrian's separation with his DC socialite wife Michelle in January 2013. And for folks wondering, no one suggests that Laurene play a role in ending the marriage.
So far, neither Adrian nor Laurene have made comments about their alleged romance.
Photos via WP/NY TIMES/Dsquared/PRADA

​ ​
​ ​ ​