TAMAR TAKES NEW YORK: "SHE" Makes The Promo Rounds, Reveals Why She Hid Her Pregnancy!
Sep 05 | by _YBF
It's a Tamar Takeover! "All the Way Home" singer Tamar Braxton was all over New York City yesterday promoting her Love and War album. See the fab (and snatched) chick on the move inside with her fam and find out what she revealed about initially hid her pregnancy.
Tamar Braxton was spotted making several stops during her New York City press tour yesterday, and of course, "She" "Me" "Her" managed to switch up her outfit at each location.
She and her husband, Vincent, were spotted at "Live with Kelly & Michael," NBC NY Live, Sirius XM, WBLS, Logo TV, VH1, and Time Inc Studios. And they hada party last night to celebrate the big album drop.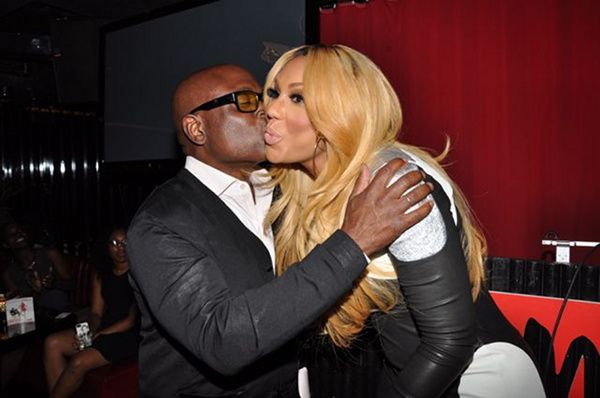 Tamar, who's signed to EPIC Records, was congratulated by company CEO LA Reid on the breakout success of Love and War.
Tamar also chatted with Hot 97 personality Angie Martinez.
Sway's Shade 45 show was also on the list of stops.
And during an interview with ABC Radio, Tamar dished about becoming a first time mother, why she and Vince shot their own spinoff show, and revealed the reason Vincent wanted her to conceal her pregnancy. Here are the highlights:
Why She Hid Pregnancy for So Long:

"I was the one who wanted to tell and Vince didn't. It was a situation where Logan wasn't planned. And it's almost like when you have fertility issues you're waiting for the shoe to drop," says Tamar, who welcomed baby Logan Vincent Herbert three months ago. "So Vince just wanted to wait as long as he could just to make sure everything was going to be OK and we were in the clear."

On Motherhood:

"Motherhood is great. Logan is great. He's a great baby," Tamar gushes. "And he's nothing like his mother. He's not dramatic at all. He's very much like Vince -- very chill, relaxed, laid back."

On Baby Logan Vincent Herbert:

"My mother [Evelyn Braxton] tells me that Logan is pretty advanced," Tamar says. "He's cooing a whole lot. He laughs. He listens. And you can tell he's listening because if somebody's talking he'll look over at the next person then he'll look back over. He's all in your conversation. Yeah, he's just a really good baby."

Why She and Vince signed up for "Tamar and Vincent":

"[Vince] did it for me in a sense. He just felt like the viewers needed to see a different side of me because on Braxton Family Values you just see me as...the loudmouth baby sister who gives all of the unsolicited advice in the world," Tamar tells ABC News Radio. "And you do, because that's the role that I play when I'm with my sisters. But you know when I'm with Vince, I'm also a mother now and I'm a businesswoman and there's another side to me."

All Tamartians can catch the return of "Tamar and Vince" on WeTV tonight at 9 p.m. ET
Photos via Stephen Knight