PREGGERS WATCH? Kerry Washington Gets Gorge In MARCHESA For 2013 Emmy Awards
Sep 22 | by Natasha
We're still on the fence about whether Kerry Washington needs to be on Preggers Watch. But we're not on the fence about this gorgeous dress she's rocking for tonight's 65th Annual Primetime Emmy Awards.
Check the pics inside ...
In another oddity (with all these belly disguising dresses lately), Kerry Washington zoomed past the Nokia Theater L.A. Live red carpet after only snapping a few pics at the very beginning of the media line. Hmmm...
And we all know this isn't typical of the red carpet goddess, who had to be well aware everyone was waiting for her to shut that carpet DOWN. Another sign she's trying to hide a baby bump? Hmmm...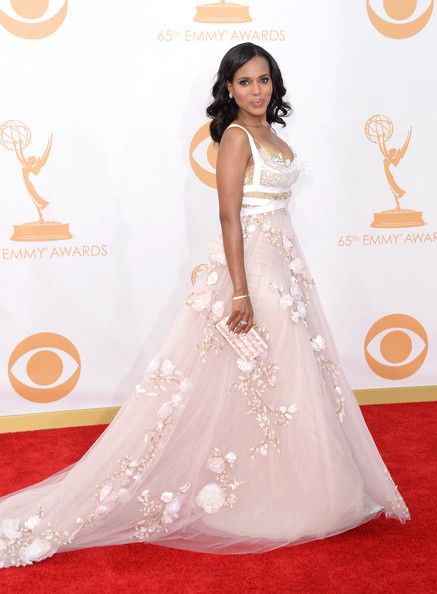 In the few pics she did take, while seemlingly sucking in for dear life, her flowing floral embellished Marchesa SS14 gown looked heavenly on the "Scandal" star. And even though she looked like she had that "pregnancy walk" while strutting toward the carpet after hopping out her limo (were you staring at the TV like us waiting for her to make her entrance?), she still managed to get the beauty of the gown captured on camera.
Kerry was accompanied by her parents on her big night. Not sure if she was rushing to get inside for the live telecast....or rushing because of something else...but we're wishing the fab chick major luck tonight!
She's both presenting along the legendary Diahann Carroll and nominated for Best Actress.
Photos: Getty, Darby Stanchfield's Twitter