Paula Patton Talks Finding "Mr. Right", Wale Does Cover Of "ROLLING OUT" + T.I. TALKS Parenting To "UPSCALE"
​
Sep 27 | by _YBF
​ ​ ​ ​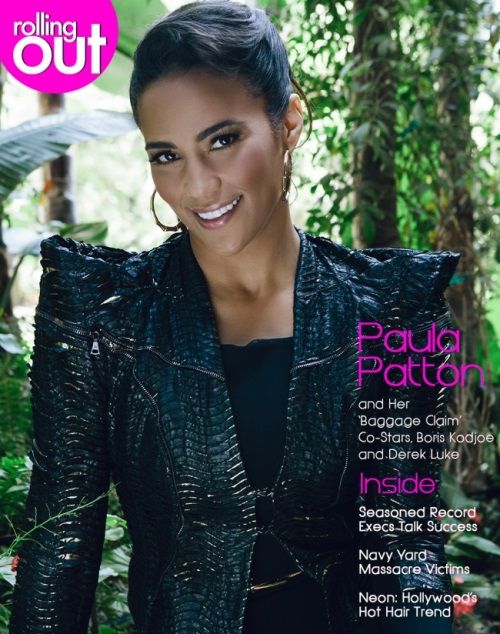 Paula Patton, Wale and T.I. are among the faces you'll see on magazine racks this month. Finding out what their talking about inside...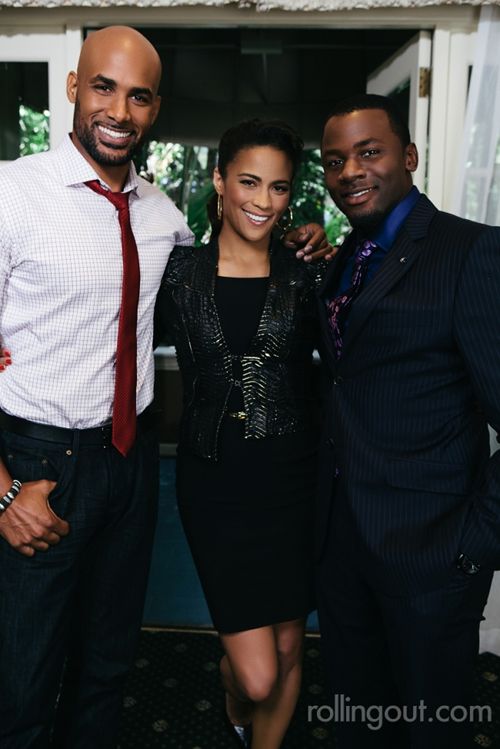 Paula Patton (shown above with Boris Kodjoe & Derek Luke) heads to theaters today in "Baggage Claim" where she plays a woman desperate to find "Mr. Right" in 30 days. In the latest issue of ROLLING OUT, Mrs. Robin Thicke talks to the mag about finding Mr. Right. Here are the highlights:
Is it better for a woman to wait for Mr. Right?
That's where we need to go as women is to find some comfort in that. The moment we stop looking and caring, they all come flocking when you're not looking.
Why is it important to be open and prepared to receive Mr. Right?
I am so glad that I am in a relationship or I would be messed up. Only people who love you can tell you "you know it's annoying when you do this" and "you need to stop saying this when you are out in public." It helps you grow as a human being. Hopefully, you enter the relationship open and ready to learn and this person who tells you there are some flaws you need to work on, you should listen. That's what I love about my relationship and it has made be a better human being.

Does love complete a person?
People think finding love is going to complete them. It's much more important that you are already complete when you enter that bond. That can make the search for love so hard when you're thinking that's the thing that will make me important or special.
You have to be a full human, love yourself and the partner is there to be the dessert. You have to be the meal.

What's the best marriage advice you can offer?
It's a marathon; it's not a sprint. As women, we get caught up in that day when you get to be a princess. When that day is over, you're like, wait, hold on a second! What just happened? Do I even want to sleep with this person? That's why marriage is beautiful. The longer it [lasts], that's someone who loves you inside and out, loves you for all your flaws.

What's the secret to making it last?
It's about being yourself, loving yourself and finding that person who loves you just the way you are. Who doesn't like to see people go on a journey, travel everywhere?
Also on ROLLING OUT.....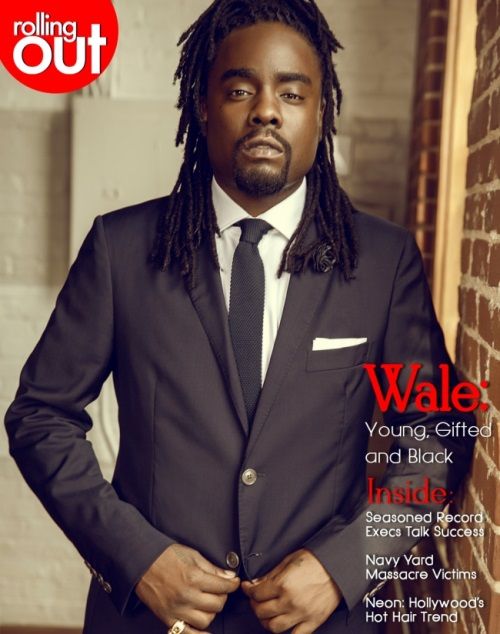 The Gifted rapper Wale also landed on the cover. Inside, he talks about being a role model, why male rappers are afraid to express their feelings and the type of woman he's attracted to (hint: he likes smart girls).
On being a role model:

"I try to lead by example....When I was young, D.C. was the cocaine capital and most violent place in America. For me to go there and then move to suburban Maryland, I was almost like a social outcast. [Being] African [wasn't] the most popular thing around the early '90s. Then I was in the detention center from sixth grade to 12th grade. [For me] to make it out of that, anything is possible.

"We got a black president. As cliché as that sounds," he also states. "And it sounds normal now since it's been about six years, but [there] was a time when it seemed far-fetched. Anything can happen. I think there are way more outlets. Way more. There are way more things going on. You can become a director without even going to art school now. It's not just trapping and rapping."

On dating an intelligent woman:

"Intelligence is something you can't fake. I'm not even talking about [reading] a thesaurus backwards, it's like; there is a beauty in common sense. Not even to say that some girls are dumb — but some girls are dumb. It's because they spend so much of their life trying to have the right look or whatever. Some girls are just really smart. There are girls you can have conversations with, healthy conversations with. Daily conversations with, who you can argue and problem solve with."

On immaturity in music:

"I don't think we've grown comfortable [with] talking about feelings all the way," he says,"like other genres do. Even like Taylor Swift and them. … Or in R&B, Miguel. Our genre, essentially, is kind of young. It is driven by young people; young African-Americans. Us as a culture — we as a people – aren't really the best with that. We got egos. Crazy egos. We're some of the most egotistical people on the planet. I'm going to say it's a defense mechanism. … It is almost frowned upon to be honest about relationships. Everybody wants you to rap from the perspective of the dude that has 20 girlfriends and can buy her a Bentley; Monday, Tuesday, Wednesday, Thursday."
Nice.
And in UPSCALE Magazine.....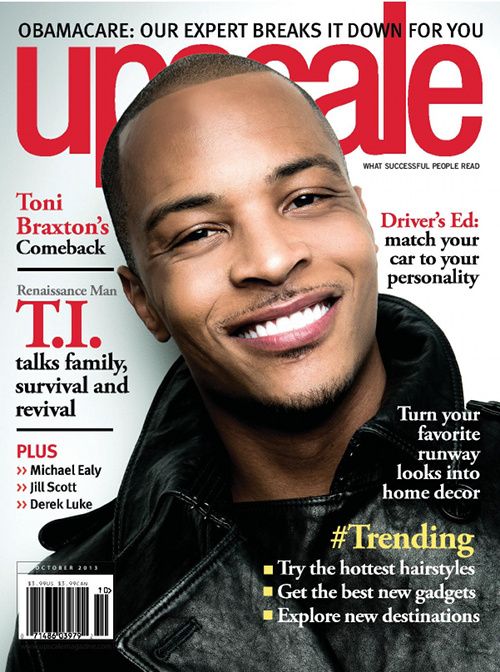 Rapper T.I. covers the October issue of Upscale where talks about being a father and the "shift" in his image. Also, he talked about his success with "Blurred Lines" and how his former publisher caught the vapors!
T.I. had asked his music publisher, Warner Chapel, for $7 Million and they refused.
"They said, 'Nah, no.' And I said, 'Ok, cool' and we walked away amicably. And now the Robin Thicke record was the number one record in the world and I am the sole publisher because they didn't want to cash me out. So thank you, Warner Chapel."

Here are the other highlights:
On being known as a daddy and father at this point in his career:

"I guess a lot of things I've done in my career that I've gained attention for I wouldn't have never really concluded that would've been a probable outcome... I guess [being known for being] a husband and a father is better than the guy with the machine guns and silencers."

On turning down a couple million for a record deal:

"I get that from The Family Hustle and we're not even talking managers cut, that's just me—not Tameka—that's just what I'm getting," he stresses, making sure his point is felt. And it is. "I can get that on my own, I can get that on tour."

On convincing Major to get mic'd up for the show:

"Sometimes he just doesn't like to be fooled with, like, 'I'm not into it today... I don't force him to do nothing. I let [the production crew] handle that. For a while Gushers worked. He was like, 'Ok, I'll do one scene for a pack of Gushers and then the Gushers stopped working. One time they came and said, 'If you come down we'll give you five dollars' and he said, 'What?! I'll give you five dollars.'"
Photos via Upscale/ROLLING OUT/DeWayne Rodgers
​ ​
​ ​ ​