MORE PROOF? Kerry Washington Is SO Pregnant....And Still Hiding It
Oct 04 | by Natasha
We were the first to call it last month when we suspected Kerry Washington is pregnant. Between the secret (and seemingly quick) nuptials with an Idaho marriage license (can't make a marriage any more secret than making it official in IDAHO!) and a suspicious change in the type of dresses she wears...not to mention the plumper face and boobs....it seemed to us that our fave "Fixer" is expecting.
And yesterday, when Kerry showed up at the Apple Store in Soho, it became even more apparent. Pics inside....
Are newlyweds Kerry Washington and Ezenwa Nnamdi Asomugha really expecting? Well she's been on our Preggers Watch list for almost a month now. Remember THIS, and THIS, and THIS?
The TV star continues to wear loose fitting dresses, distracting prints, and using props (yesterday it was her puppy!) to cover that telling baby belly.
Yesterday, at an Apple Store appearance in Soho where she continued to promote the season 3 premiere of "Scandal", she rocked this coral dress that is perhaps the most telling:
And this looks like more proof she's got a baby on the way.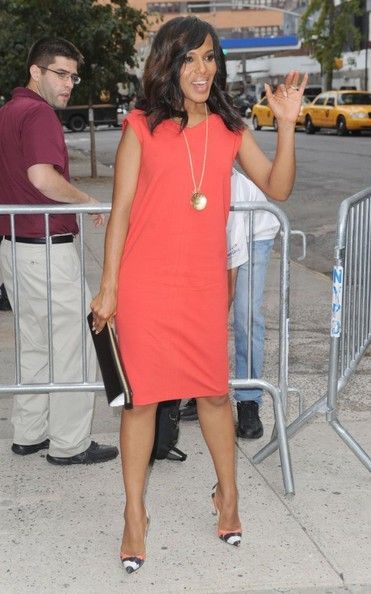 Who is this trying to cop a feel?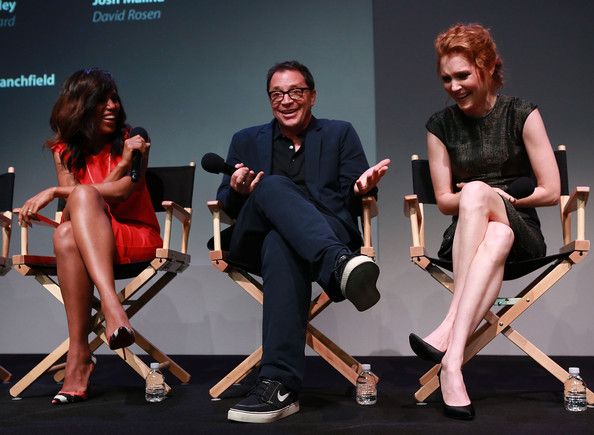 Kerry's co-stars hit the stage with her to talk to fans about the upcoming season. And those legs and arms stayed crossed.
Later on, she rolled to the "Daily Show" with Jon Stewart in this mixed print frock which, of course, draws attention away from the midsection: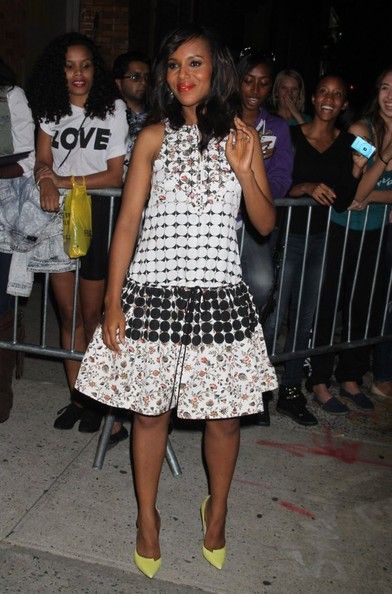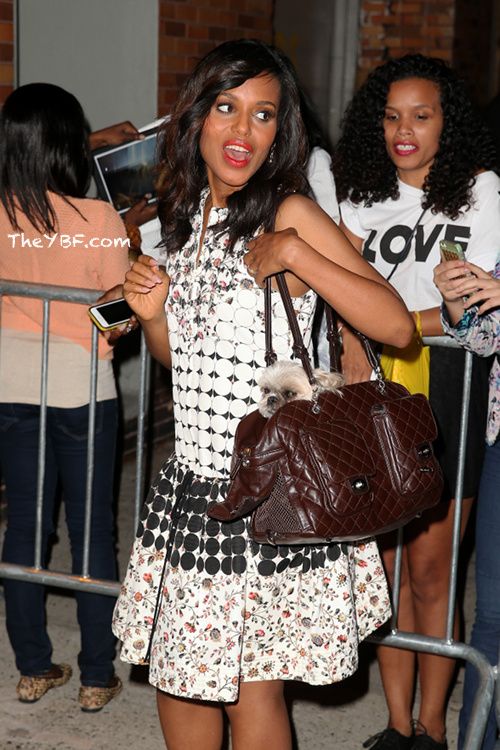 She even brought her doggie along. Likely to use the big ass bag to cover up the side shots of her tummy.
We're loving the idea of Kerry as a mom. Once she confirms this pregnancy, she'll be the go-to-girl for fashionista mommies-to-be. Fab!
P.S. How INSANE was last night's premiere? Lawd....
Photos: Splash