BACK AT IT??!! Chad Johnson Still Pining For Evelyn? [UPDATE] + Torrei Hart CONFIRMS "Atlanta Exes" CAST Includes Tameka Raymond?!
​
Oct 09 | by _YBF
​ ​ ​ ​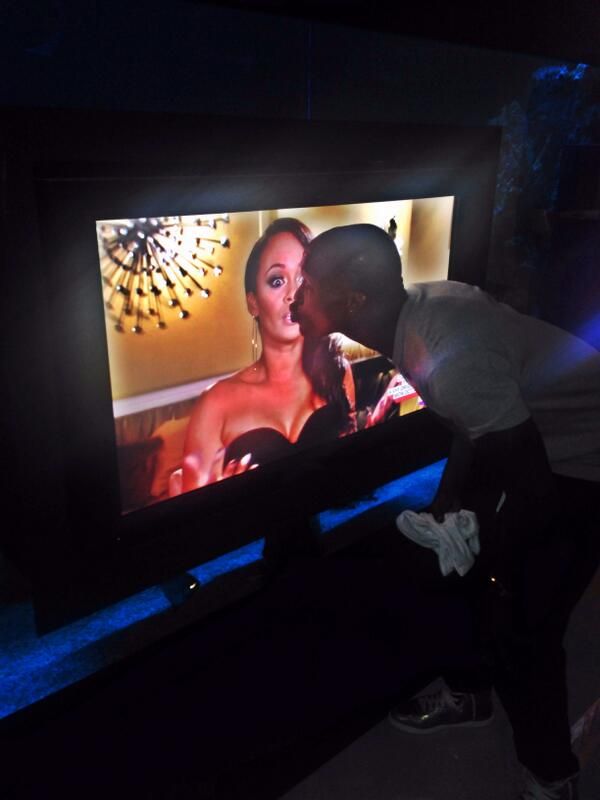 Chad Ochocinco Johnson has been getting flirty with ex-wife Evelyn Lozada (and he wants the whole world to know). See what he posted on Twitter and find out which famous "ex" wives will join Torrei Hart on "Atlanta Exes".
Fans of new CBS sports analyst Chad Ochocinco and "BBW" star Evelyn Lozada will recall that the ex-couple famously "met" on Twitter a few years ago and got very flirty with each other.
Well....we can't confirm that the two are back together, but we can confirm that Chad is "flirting" again. He posted a pic of himself yesterday kissing her through the tv set, saying, "I caught bae by surprise... "
Then, Evelyn sub-tweeted....
SMH...these two.

*UPDATE* Evelyn tells TheYBF.com she tweeted about loving surprises BEFORE Chad tweeted his flirtatious message. We're told Evelyn has moved on with her life and she wishes that Chad Johnson would move on with his and leave her alone....

And on television.....
Funnylady Torrei Hart revealed to HipHollywood that she'll be headed to the small screen on the new reality tv series "Atlanta Exes." While on the red carpet for ASCAP's 5th Annual "Women Behind the Music Series," she dishes on why she chose to do the show and revealed who her high profile castmates will be.
"I just feel like it's a way to see who I am. In the past I've been put out in the press, people have this assumption about me, and it's a way for people to really get to see who I am. I want to do the show. I think it's a great opportunity. It's a great platform, and I'm excited about it."
So who'll be joining her on the show? Torrei said Usher's ex, Tameka Raymond, Cee Lo's ex-wife Christina Johnson, and Idris Elba's ex-wife Kim Alba will also be joining the show.
"And the women that are on the cast, I really love the women. I think we can empower women, and they can see that reality TV can be positive, it's not just fighting and negativity"
When asked what Kevin said about the show, she said,
"I did talk to my ex about it and at first he just wanted to know why I wanted to do it, and I just told him I think it's something I need to do for me. At first he was a little apprehensive about it but once I told him 'I assure you I will not be fighting, I will not be cussing, I will not embarrass our kids, our family, you have nothing to worry about,' he was like okay go for it, do it."
We'll keep you posted about airtimes.....
​ ​
​ ​ ​