Remember Pam From TOTAL? She's Now MARRIED To "Unofficial" Pretty Ricky Member J.Long
Oct 10 | by Natasha
Now that Kima and Keisha are married and have gone on about their lives, the third member of Total also just got married. Check out Pamela Long's love story inside...
Cue up "Trippin' because one of our fave girl groups has some news. At least 1/3 of the group does.
Pamela Long is now married to the love of her life, singer J.Long. Both are now Christian artists, and they even have a song together called "Sweet Thang".
Pam's been posting all kinds of lovey dovey pics with her man, and the one above showed off her engagement ring and her social media followers figured out she was engaged.
But for the last week, she's been offering up "Thank You's" to those people telling her congratulations on her MARRIAGE. And she put in her bip she is now a wife.
So it looks like things are official. And the two coincidentally already had the same last names.
As for her new husband J.Long.... He was a solo artist on Bluestar's roster but also an unofficial member of Pretty Ricky. Since getting Baptized and becoming a Christian artist recently, he now has a song with Pretty Ricky member Slick'Em called "Anything."
J.Long calls her his wife on many of his posts, and also called himself a Husband on his Twitter bio.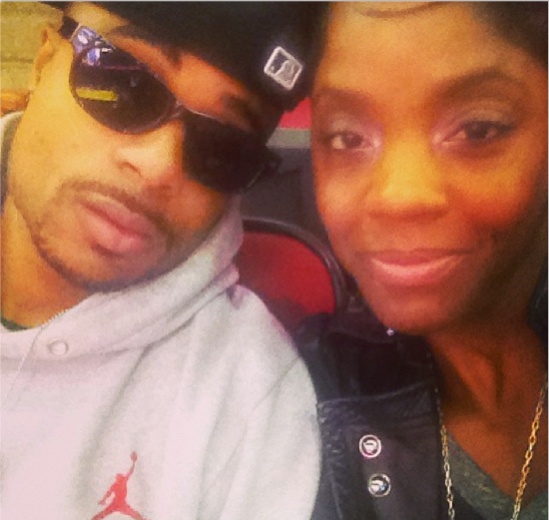 Pam posted a pic of them at the recent Houston Rockets game saying:
This is the Love Of My Life! Thank you Jesus 4 Loving Me So Much That You Would Send Me a king Who Follows After You w/all of his Heart! We are and will never be perfect but we follow the One that is: And that's You Jesus! The King of kings and Lord of lords! Hallelujah! As for me and my house, we shall serve The Lord At the Houston Rockets game with the wife We #thuggin
Here's their "Sweet Thang" song below:
Congrats to the couple!
The Randomness:
1. Jimmy Kimmel nabbed record ratings for his sitdown with Kanye West last night. STORY
Photos: Pam's Twitter & IG, J.Long's Twitter