UH OH! Jennifer Hudson's Skirt Splits On "Chelsea Lately"! (Plus Talks Orgasmic Experiences For Her New Movie!)
Oct 11 | by Natasha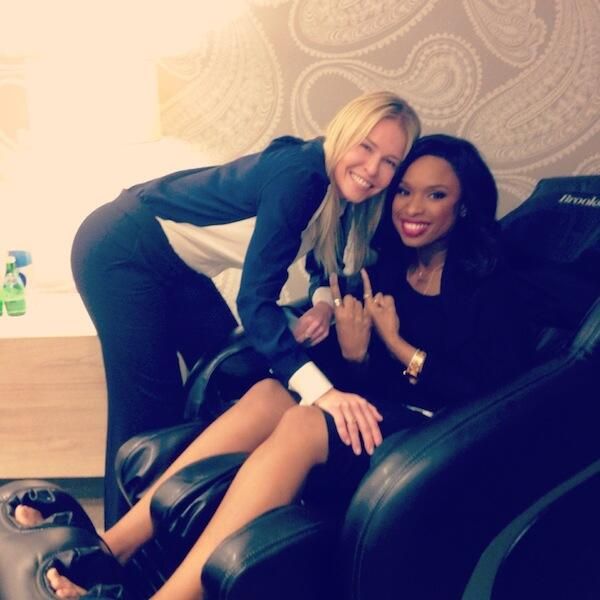 Jennifer Hudson gave Chelsea Handler and the audience way more than they expected on last night's episode of "Chelsea Lately". Check out her major wardrobe malfunction that turned out to be pure hilarity, plus what she said about channeling orgasms for her heroin-addict role....
When Jennifer Hudson walked out on Chelsea's stage last night to talk about her new movie The Inevitable Defeat of Mister & Pete, her zip front leather pencil skirt split completely. Chelsea freaked out and had to help Jenny zip that mug back up. All you hear is "Don't break the zipper!"
Hilarious.
Once her wardrobe malfunction was under control, Jenny talked about why it was so hard to portray a heroin addict in the movie since she's never done any type of drug--or liquor--in her life:
"I've never done anything. I've never had a drink in my life or been unsober. And normally as an actor you have things to pull from but I was like, I don't know what it's like to have any of that....I've never been interested.

No one ever believes me but no, never."
So what did she use as inspiration?
"I went to a rehabilitation center and met with several ladies and they would tell me their stories as addicts. I tried to find one I could connect to and pretty much tell her story. The worst story she told me was one time she had her baby in a bookbag while she went out to find her high."
And orgasmic experiences are apparently involved:
We shot with needles, not a real one, and they took me through every step of what it's like--how you get addicted to drugs, what it feels like when you are high. She told me it was like an orgasm. I was like, 'I can do that part' .
Well...
Check out the videos below:
Photo: Jennifer's Twitter