OH: LaLa Anthony Talks Loving Sex With Her Hubby....And Not Worrying About Him Cheating
Oct 23 | by Natasha
LaLa Anthony is breaking it down on why she loves sex with her NBA star hubby Carmelo...and why she is unfazed about what he could possibly be doing while on the road.
Check out how La breaks down the importance of sex on "Bethenny" inside...
With co-starring in movies like Baggage Claim and Think Like A Man Too, plus promoting her Motives for LaLa line all over the world while hitting up any party nearby and still being on mommy duty, it's a wonder how LaLa even finds time to get romantic with her hubby. But obviously, chick makes a way.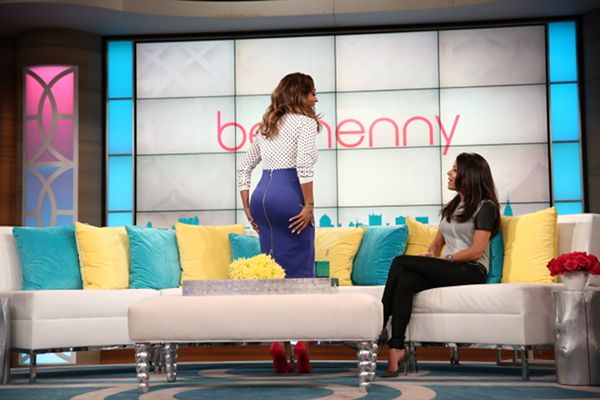 On tomorrow's episode (Oct. 24th) of "Bethenny", the reality star--who showed off a sexy pencil skirt from her 5th & Mercer line--is dishing about the importance of sex in a relationship. And with a hubby who's as cute as hers, we can't even blame her for making it a priority.
Highlights from the ladies' chit chat:
Bethenny: How is the life? You hear all the cliches about dating men who go on the road. Do you get worried? Do you get jealous? What's the dynamic?
La La: I'm just very secure in myself. I cant worry about what's happening on the road. I know our relationship. I know we have a great relationship. He's my best friend and that's what I put my energy on. If we think too much about what's going on when we are not there and checking phones and cracking email codes, that will drive a woman crazy. You have to be secure in yourself and hope that's the best.
Bethenny: Do you go on the road?
La La: Sometimes I go on the road. I work so much that I am just not able to pick up and go on the road but if he is going to a fun place, Chicago, Miami somewhere that I want to visit, yeah I'll jump on the road and hang out.

Bethenny: How important do you think sex is in a relationship? Compared to if I had to put a gun to someone's head and said okay you have to choose sex or emotion in a relationship, like sexual connection or emotional connection.
La La: Wow that's a good one. I love sex. I think emotional definitely but I love sex, I think it's very important.
Bethenny: Do you think they are related? An emotional connection makes the sex better or they are?
La La: I think they are definitely related if you guys are compatible on an emotional level you guys will just be magnetic and great. One thing with sex with me is, I'm not into scheduling sex now. I am just not into that. I don't think that's sexy, I like being spontaneous and things just happen and you're like wooaaa.
Bethenny: It's not like you and your husband can do it in a hotel bathroom, he's quite large someone would notice it. I mean, this couple did it in a home depot shed. People would call you out.
La La: We've never done that but you'd be surprised.
The full episode airs tomorrow.