GOSPEL DRAMA: The "Preachers Of L.A." PREACH OFF On "Arsenio" + Leandria Johnson Backtracks On BLASTING Mathew Knowles
​
Nov 02 | by Natasha
​ ​ ​ ​
Arsenio Hall played host to the "Preachers of L.A." on his show recently. And if you thought they were the equivalents of fast talking pimps before...check out their Preach Off and them defending their "lifestyles" inside....
With all the criticisms of that "Preachers of L.A." show, of course the cast has been spending most of their promo time defending themselves and convincing the world that they're legit here for The Lord.
While we think they need more people, maybe their "Preach Off" will sell you. Check out what Arsenio had the men do below. Ha!
And also how they defended themselves against the critiques of their lavish lifestyles (that they believe The Lord simply blessed them with, like it didn't come from the tithes and offerings) and suspected fraudulence.
In other church drama, yesterday, Mathew Knowles' artist Leandria Johnson took to Twitter to POP OFF about Mr. Knowles. Leandria, who also is the pastor at I.P.C. Ministries in Atlanta, is a past winner of "Sunday Best" on BET. She signed to Mat's Music World label afterwards and ish went downhill fast.
Leandria spoke last year about getting out of her deal at the label. And yesterday, some Twitter messages popped up on her account. On said:
I HAVE NOT SAID NOTHING FOR 2YRS NOW!!! MATTHEW KNOWLES IS A CROOK!!! AND I WANT OUT!!!! IM TIRED OF BEING BULLIED!!!!"
And while we sat twiddling our thumbs waiting on THAT tea to drop, we reached out to her manager for a statement. Her manager responded that a former employee tweeted the message and it wasn't Leandria. Really? Because the messages are still on her Twitter, and so are messages in support of her that she RT'd of her followers.
Still, here's her "statement" from her legal team: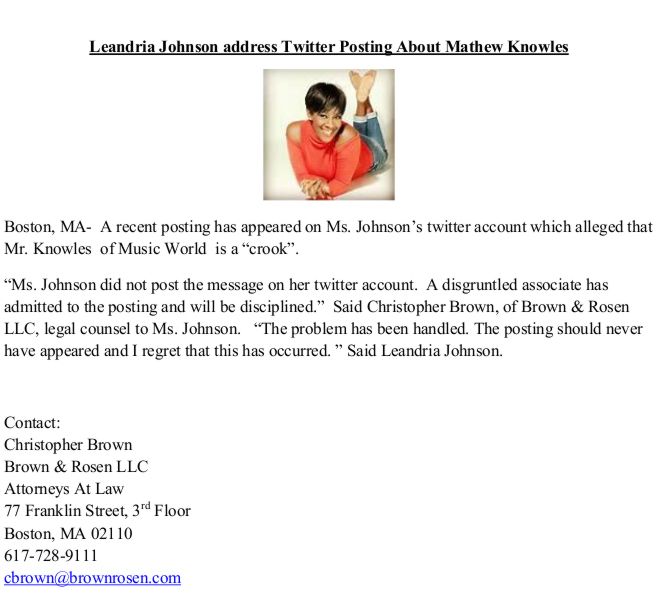 So....did someone have a change of heart due to a legal threat? Or was it really a disgruntled associate?
​ ​
​ ​ ​