Pebbles Breaks Silence! Talks Rav 4s, Chilli's Affair With L.A. Reid & The REAL DEAL With TLC's Contracts On "Wendy" & "Huff Post Live"
​
Nov 13 | by Natasha
​ ​ ​ ​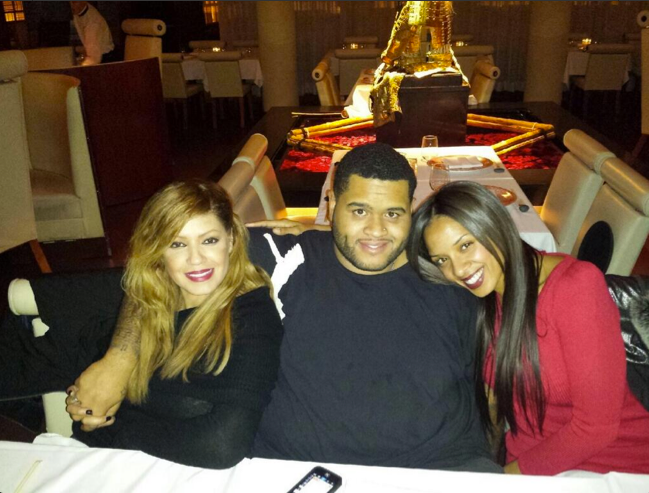 Pebbles has finally had an official "speaking-out" about all the TLC drama. She hit up "The Wendy Show" today to spill the green tea, black tea, and Earl's Grey tea about the entire situation. Catch it all inside...
Pebbles says she's fed up with the false stories about her life and the way she handled TLC's career as a group. She says the only thing that wa true about VH1's "CrazySexyCool: TLC Story" biopic...was that she wears Chanel bags.
Pebbles is indeed keeping her lawsuit options open she says, despite the fact VH1 tried to make nice yesterday by sending her a notice saying the movie was NOT based on a true story. She says they marketed it as a true story, so this needs to be cleared up and handled.
Now, for what we really want to know from Pebbles.
After Wendy told her she had red lipstick on her teeth, they got down to business.
Chilli's alleged affair with Pebbles' then-husband L.A. Reid
Pebbles says the rumor of her walking in on Chilli & L.A. sexing is not true....because she would have caught a case. BUT, she does "absolutely" believe they were having an affair because she "saw things".
The damned Rav 4's
Pebbles says that if that's what you asked for, then that's what you got. She basically says the girls of the group had simple tastes. And they weren't making Ferrari money anyway.
The wack contracts
Pebbles claims the girls DID in fact, read their contracts and signed them knowing what was in them. "If the contract was so bad, why'd you sign it?" She said Crystal--the former member who never really became a member--was never actually given a contract despite her saying she was. Pebbles says she never even made it that far, but she was a nice girl.
Pebbles said she would never give $25 per diem because she's "so generous" (and she referenced her Giuseppe Zanotti boots she bought to rock on Wendy's show...for Wendy). She alluded to people higher up in the food chain (namely Clive Davis and L.A. Reid) who were the ones really making all the money. As for if she ever "stole" money from the girls, she said "Hell no!" She said a few times she thought of the girls like her daughters.
She also says it was a total lie that her lawyers were the girls' lawyers as well. She said she didn't know those lawyers (but later in a Huff Post interview says they were L.A. Reid's lawyers) and simply found an esteemed law office to refer TLC to because lawyers at that time would only take clients based off reputation. Pebbles maintains that the girls had their own lawyers.
Who really kicked Chilli out the group
Pebbles dropped a bombshell and said it was T-Boz & Left Eye who kicked Chilli out the group....not her! They were allegedly bothered by Chili's relationship with their producer Dallas Austin. And she crossed the line of "group rules" Pebbles told them to make.
Daughter Ashley (speaking from the audience) on wanting to "beat down" Chilli
"Just because I'm 30, I'm not allowed to be passionate?" Yeah, she said that...with a shady smirk.
Peep the full bombshell interview below:
And here's more tea from Pebbles' Huff Post Live interview:
BONUS: TLC was just announced today as a performer at the upcoming AMAs. They will be rocking the stage with a "surprise unannounced guest". The Awards show airs November 24th on ABC.
Photo: Pebbles' Twitter
​ ​
​ ​ ​